Introduction
Are you tired of creating video and podcast content that falls flat? Fear not; with the help of AI script generators, you can take your audio-visual game to the next level.
As we all know, videos and podcasts are the hip new kids on the content marketing block, and everyone wants a piece of the action. But how can you make your content stand out in a sea of sameness? The answer is simple: AI Script Generators. These clever little tools can help you craft compelling scripts that will keep your audience engaged from start to finish.
In this article, we'll be your guide to the top AI script generators for video and podcast scripts, show you how to turn your words into captivating content with the help of AI tools like Fliki, and even give you some insider tips on how to create content that's both informative and entertaining. So buckle up, buttercup, and let's get creative!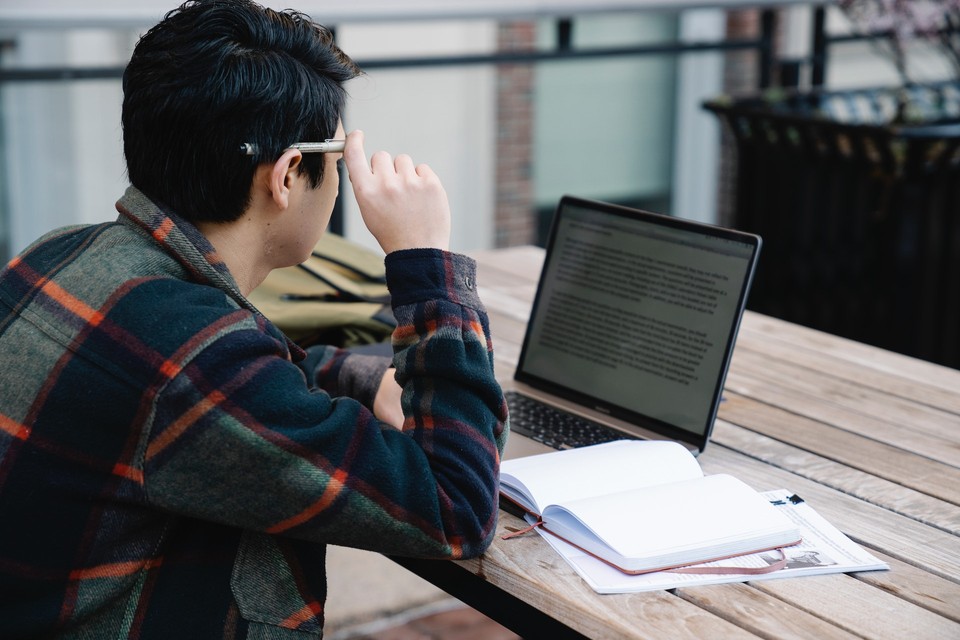 Top 5 AI Script Generators in 2023
1. Rytr
Rytr is one of the top AI script generators for video and podcast scripts that provides an extensive list of features to make the writing process easier and faster.
With access to over 30 use cases, 20+ writing tones, and the ability to write in over 30 languages, Rytr is a versatile tool for content creators. Additionally, the built-in plagiarism checker ensures that all content produced is unique and original.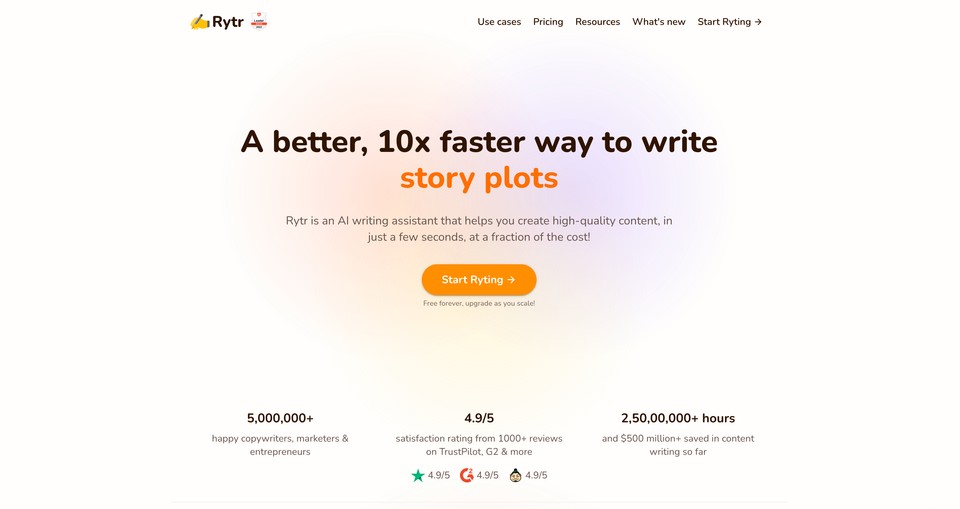 Key Features of Rytr
Rytr offers a wide range of features that can help you create high-quality content easily and quickly. Here are some of the critical features of Rytr:
Generate unlimited words per month (with Unlimited plan)

Access to over 30 use cases to create content

Write in over 30 languages

Access 20+ writing tones

Built-in plagiarism checker

Access to a premium community

Create your custom use-case

Dedicated account manager

Priority email & chat support
Rytr Pricing
How much does Rytr cost? Let's discuss the pricing plans and offerings:
Free plan
Rytr's free plan is perfect for beginners seeking free writing software. With this plan, you can generate up to 5000 characters per month, access 30+ use cases, write in 30+ languages, access 20+ tones, and use the built-in plagiarism checker. You also get access to the premium community.
Saver plan
For $9 per month, you can upgrade to the Saver plan, which allows you to create up to 50,000 characters (around 7000 to 8000 words) per month. You can make your custom use case in addition to all the features in the Free plan.
Unlimited plan
If you're looking for complete writing capabilities, the Unlimited plan is the best option. This plan allows you to generate unlimited monthly characters and create custom use cases. For only $29 per month, you get all the features included in the Saver plan, plus a dedicated account manager and priority email and chat support.
2. ChatGPT
ChatGPT, short for Chat Generative Pre-trained Transformer, is a natural language processing (NLP) model developed by OpenAI, an artificial intelligence research company. It is a variation of the popular open-source transformer-based language model, GPT-3.
ChatGPT got developed to enable natural language conversations between machines and humans, making it a valuable tool for script writing and other applications.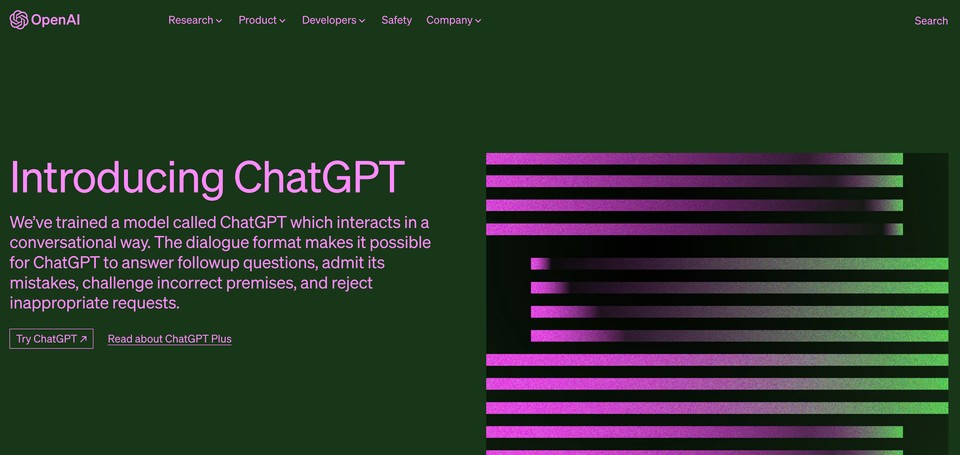 Key Features of ChatGPT
ChatGPT offers a wide range of features, making it a versatile tool for content creators.
Contextual understanding: ChatGPT can understand the conversation's context and generate relevant responses to the topic at hand. It allows chatbots that use ChatGPT to have more natural and engaging conversations with users.

Human-like responses: ChatGPT is trained on giant datasets of human conversations, allowing it to generate appropriate responses for a given context that flow naturally from one message to the next.

Wide range of applications: Apart from script writing, you can use ChatGPT for various tasks such as language translation, text summarization, question answering, and article and story generation.

State-of-the-art performance: ChatGPT is based on the original GPT model, which has achieved state-of-the-art results on several language tasks. It can generate high-quality responses and perform well on a variety of tasks.
ChatGPT Pricing
The best part about ChatGPT is that it offers everyone all its features for free. Lately, Open AI had introduced a paid plan - ChatGPT Plus.
ChatGPT Plus Plan
If you're looking for faster response times and priority access to new features and improvements, you can subscribe to the ChatGPT Plus plan for $20/month. The ChatGPT Plus plan also provides lag-free access to ChatGPT, even during peak times.
3. Jasper
Jasper is another AI script generator that leverages the GPT-3.5 language model to help you create original content quickly and easily. Whether you need to write video scripts, blog posts, social media content, ads, eBooks, or even novels, Jasper has covered most things with its wide range of copywriting templates.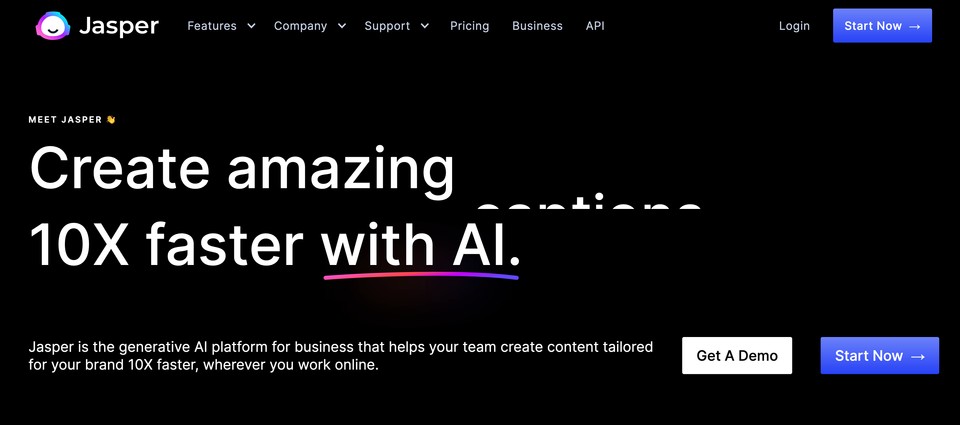 Key Features of Jasper
Create scripts for videos and podcasts

Generate content in 25+ languages

Plagiarism checker

Grammarly basic included

50+ copywriting templates

Improve existing content with Content Improver
Jasper Pricing
Jasper offers two pricing plans to choose from based on your needs:
The Boss Mode
The Boss Mode is perfect for bloggers and content marketers who want to create longer articles and get the most out of Jasper. This plan comes with 50,000 words credit per month, 3,000 character lookback, and access to all the above features. The Boss Mode starts at $59 per month. You can also purchase bonus word packs for $40, which gives you an additional 30,000 words.
Business Plan
The Business Plan is ideal for teams and businesses that require unlimited words. This plan includes all the Boss Mode features, custom words/user packages, manage limits per user, flexible billing options, a dedicated account manager, onboarding & training sessions, and premium technical support.
4. Writesonic
Writesonic is an AI script generator and writing tool designed to assist content creators with marketing-oriented content creation. It is an excellent tool for businesses, start-ups, eCommerce, and agencies. Writesonic offers various features that make content creation faster and easier.
With Writesonic, writing short marketing content like Facebook ads, social media content, and memorable website copy is easy. Though the content requires editing before publishing, Writesonic can help turn ideas into topics, outlines, and scripts that can grab the audience's attention.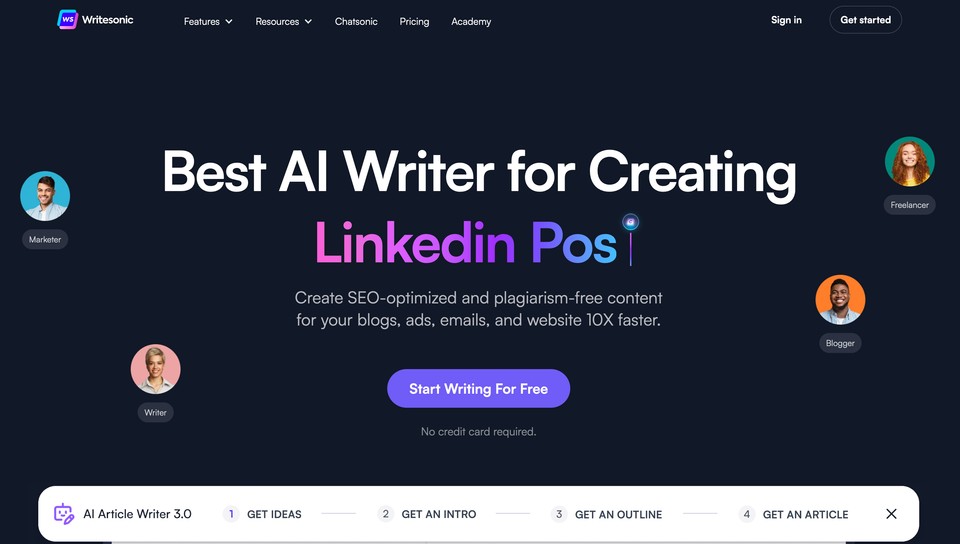 Key Features of Writesonic
Content Rephraser and Expander

Article Summaries

Grammar Fixer

Readability Checker

eCommerce Copy for Amazon

Sales Emails
Writesonic Pricing
If you're wondering how much Writesonic costs, here's what you need to know about their pricing plans:
Free Trial
Writesonic offers a free trial plan where you can generate up to 6250 words, giving you plenty of opportunities to test the software and see if it fits your needs well.
Short-Form Plan
For just $10 per month, you can generate as many as 30,000 words while accessing various features. If you need more words, as many as 125,000 words under the 'Good' quality setting will only cost you $26.67 monthly. If you were to pay the same amount under the 'Premium' quality setting, you'd be able to generate 50,000 words.
Long-Form Plan
The Long-Form Plan is perfect for you if you need to generate a large amount of content. You can generate as many as 2 million words per month, and if you choose annual billing, you can save 33% on your subscription. However, it's all variable depending on the number of words you generate. Just note there are no unlimited credit plans, so you'll need to keep a check on your word count or upgrade your plan.
5. CopyAI
CopyAI is an AI script generator and copywriting tool that helps you develop fresh ideas, generate engaging scripts and create other copywriting content. Using machine learning and AI technologies, the program self-trains and improves with every usage, providing an excellent writing experience.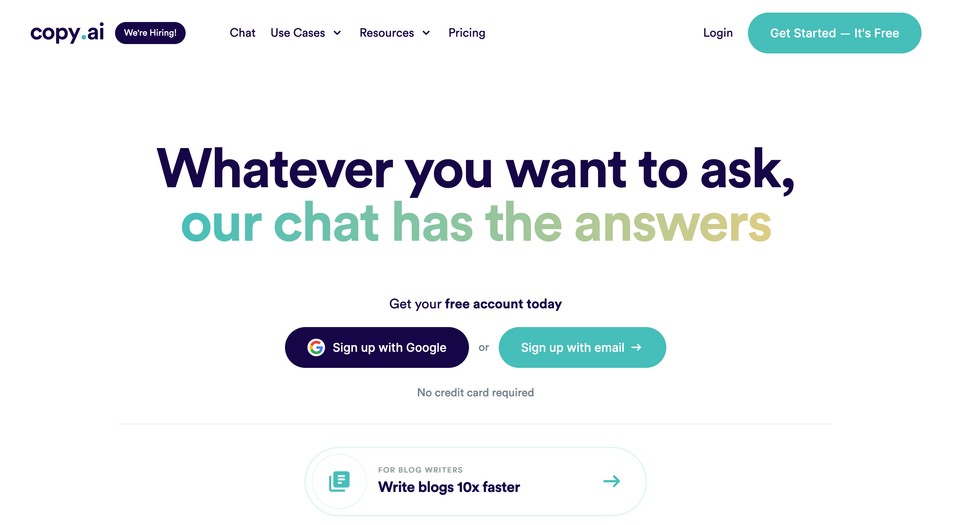 Key Features of CopyAI
Supports 25+ languages

90+ copywriting tools

Create unlimited projects

Priority support

Plagiarism Checker

Team Collaboration
CopyAI Pricing
CopyAI offers a free plan, allowing users to test the software before upgrading to the Pro Plan. Here's a breakdown of the pricing plans:
Free Plan
The free plan is perfect for beginners looking for free writing software. With this plan, you can access 90+ copywriting tools, create unlimited projects, and use the Blog Wizard Tool. Additionally, you get a 7-day free Pro Plan trial to test the advanced features.
Pro Plan
For $49 per month, you can upgrade to the Pro plan, which allows you to add up to 5 users, get priority email support, support 25+ languages, and access their newest features. You also get all the features included in the Free plan.
CopyAI's Pro plan provides users with advanced writing capabilities, making it a decent option for generating video and podcast scripts.
Converting Copywriting Scripts to Videos and Podcasts with Fliki
Congratulations, you've written a masterpiece with the help of AI script generators! But wait, why stop at written content when you can transform it into engaging video and podcast content? Enter Fliki, an AI tool that can help you convert your copywriting scripts into professional-looking videos and audio files.
Fliki boasts an impressive array of features, including 900+ realistic voices with 100+ accents, auto-summarization, and even the ability to create videos from tweets! And if you need to reach a global audience, Fliki's auto-translate/dub feature supports over 75 languages.
So, how do you use Fliki? First, paste your AI-generated script into Fliki. It will automatically pick relevant media based on your content. You can choose the voice from its extensive library of voices and accents, adjust pitch and tone, and add emotions. Watch the quick 1-minute video that demonstrates how it's done:
💡 Pro Tip: Use Fliki's public pages to host and showcase your audiobooks and podcasts to the world.
Conclusion
In conclusion, the world of content creation is constantly evolving, and the rise of Generative AI has opened up new avenues for the content industry to showcase their skills.
AI Script Generators offer a powerful solution for generating captivating scripts quickly. When combined with AI-powered tools like Fliki, you can create engaging audio-visual content in minutes.
As you experiment with these apps and tools, don't forget to put your unique spin on your content. Use your creativity to create videos and podcasts tailored to your target audience and showcase your expertise.
So, go ahead, unleash your creativity, and let the power of AI take your content to the next level.