Introduction
Welcome, fellow wordsmiths and speech enthusiasts! If you're here, chances are you're searching for a way to turn your words into something more than ink on a page or pixels on a screen.
Maybe you're a business owner looking to create audio versions of your blog posts or a visually impaired individual searching for a tool to bring the written word to life. Whatever your reasons, you're in the right place!
In this post, we'll explore the best text to speech platforms and guide you through choosing the right one for your needs.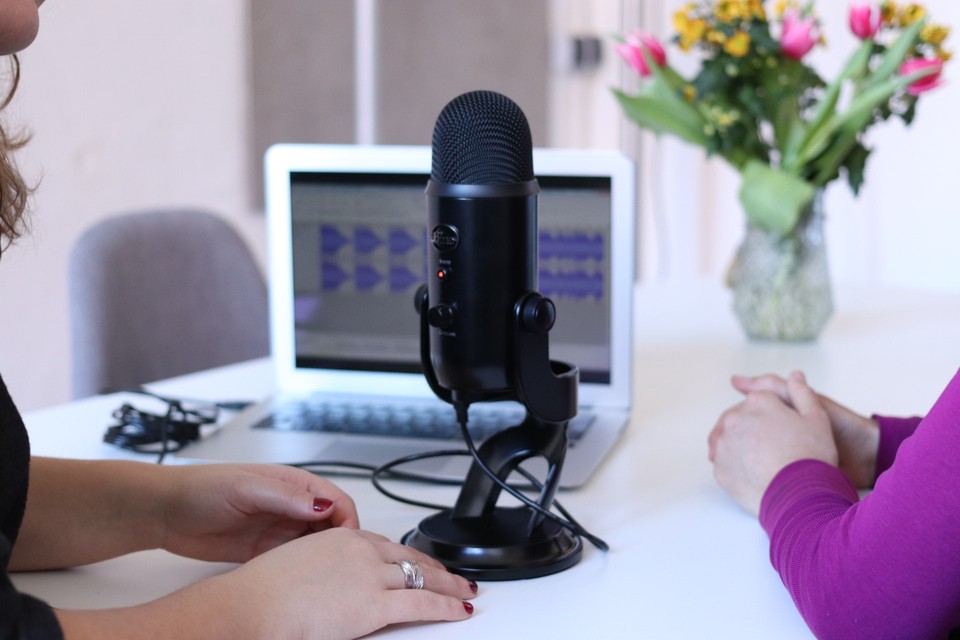 Factors to Consider When Choosing a Text-to-Speech Platform
Before diving headfirst into the text-to-speech platform world, it's essential to consider a few key elements. After all, you want to invest your time and money in a platform that meets your needs. Here are some factors you should keep in mind:
1. Natural Voices – The Deal-Breaker
If you want your audio content to sound like a real human being, you need a TTS platform that offers natural-sounding voices. You don't want your listeners to feel like they're listening to a robot reading a script.
Make sure the TTS platform has voices that can pause and breathe in all the right places, change the style or emotion based on the context, and sound like real people. That way, your audio content will be more engaging and enjoyable.
2. Languages and Accents – Breaking Down Language Barriers
A fantastic TTS tool should allow users to convert their content into different languages and accents, expanding their reach worldwide and overcoming language barriers.
This feature opens up new business opportunities and ensures a consistent user experience across different regions and languages. Plus, who doesn't love hearing their favorite brands speak their language? Plus, it's always impressive to hear a brand speak your language, right?
3. Pitch, Tone, Rate, and Other Customizations – For the Perfectionists
Sometimes you want your audio content to sound authoritative and intelligent, while at other times, you want it to sound peppy and exciting. That's where voice customization features come in.
Make sure the TTS platform can adjust pitch, tone, rate, and other settings to achieve the perfect custom voiceover, depending on your project.
4. Voice Cloning – Be your own brand
With voice cloning, you can create your custom voice, center your brand image around it, and create content at scale. A text-to-speech system with voice cloning capabilities can significantly transform every industry, including eLearning, advertising, customer service, and so on, by enabling creators to create a unified brand audio identity.
It can save time or budget that these brands spend to schedule multiple voice actors, recording studios, re-takes, and post-production. You can create as much content as you want without recording yourself, allow your team or colleagues to create content on your behalf, or develop a unique voice that your customers can remember.
5. Import and Export Files and Media – A Seamless Experience
Importing and exporting files is a crucial part of working with digital information. The TTS software should allow users to either copy-paste the text to an editor or import text files in different formats to the software. At the same time, there should be an option to export the final audio file in various formats.
An added advantage would be allowing users to add media files such as images, videos, and presentations to the final voiceover and sync them to create the perfect voiceover content.
6. Add-Ons - The Cherry on Top
Best Text-to-Speech products should support you with an arsenal of add-ons, such as a library of music, non-verbal interjections, and sound effects (SFX). Having non-verbal utterances like coughs, ohms, and "wows" make your voiceovers more human and realistic.
Your productivity and creativity will increase if you don't have to search the web for background music or sound effects (i.e., fire burning, car honking, or bomb blasting).
The right tool can help you create content that sounds natural and engaging while allowing you to reach a broader audience. Determining your specific needs and goals is essential before settling on one. So, research, take a test drive, and consider the factors outlined in this section before making your final decision.
Tips for Evaluating a Text-to-Speech Platform
Now that you know what points to consider when choosing a text-to-speech platform, it's time to evaluate your options. Here are a few tips you should keep in mind as you narrow down your choices:
1. Take advantage of free trials
Many text-to-speech platforms offer free trials to test the features and functionality before committing. Take advantage of these trials to get a feel for each platform and see which works best for you.
2. Read reviews and customer feedback
Research to see what other users have to say about each platform. Look for reviews and customer feedback to understand the platform's strengths and weaknesses.
3. Test multiple voices and languages
If you need a specific voice or language, test it out thoroughly. Play around with different voices and languages to see which sounds most natural and accurate.
4. Consider your budget
As mentioned earlier, pricing is always a factor. Consider your budget when evaluating text-to-speech platforms and choose one that fits your needs.
5. Think about your long-term needs
Finally, consider your long-term needs. Are you looking to create a few audio files, or do you anticipate needing a text-to-speech platform for the foreseeable future? Make sure the platform you choose resonates with your long-term needs.
Remember these tips, and you'll be well on your way to getting the perfect text-to-speech platform for your needs!
3 Best Text to Speech Platforms
Choosing the right text-to-speech platform is crucial, especially considering the numerous available options. In this section, we'll discuss the 3 best text to speech platforms that you can consider:
1. Fliki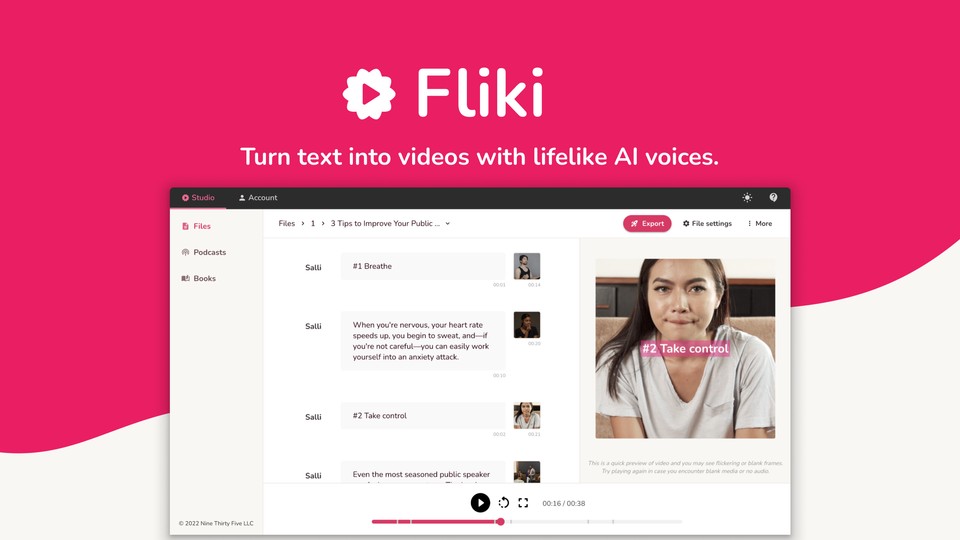 Fliki is an AI-powered text-to-speech and text-to-video creator designed for many users. Fliki boasts 900+ realistic voices in 75+ languages with 100+ accents, built-in translation, premium background music, and a pronunciation map.
Users can adjust pitch, tone, and emotions and add pauses to the generated audio. Users can also create and host podcasts and audiobooks on the platform.
Fliki offers a free plan with access to 400 voices, 5 minutes of audio and video content (720p), and up to 10 scenes per file. Paid plans start from $8 monthly, with additional features such as video creation, API access, and dedicated account managers.
⭐ Rating: G2 - 4.8, Capterra - 4.8, Trustpilot - 4.8
2. WellSaidLabs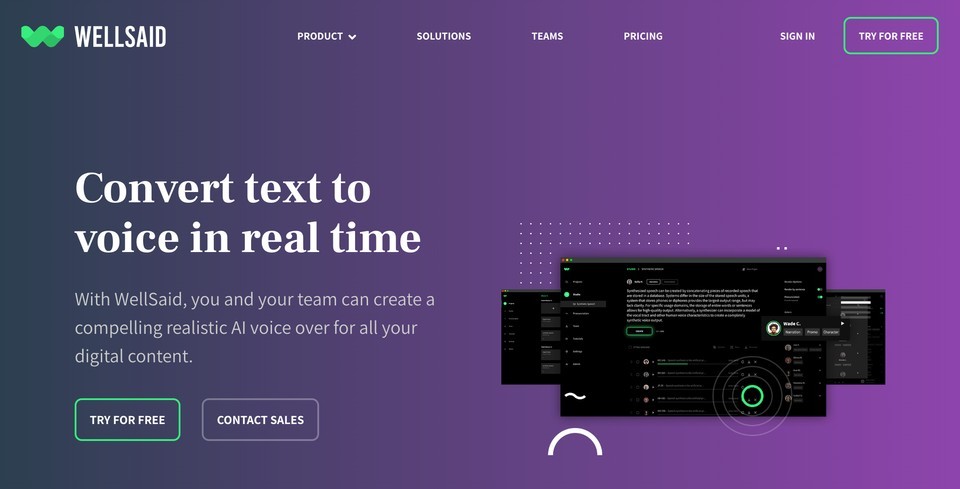 WellSaid Labs is a premium Text to Speech (TTS) tool that allows users to create realistic AI voiceovers. The software offers a wide range of voice styles, accents, and languages to enhance the user's stories and digital experiences.
With both male and female realistic voices, Well Said Labs makes content more engaging. Additionally, users can customize their voice avatars, create unique tones, and connect the API to their in-house services.
The Well Said Studios feature allows customers to create custom AI voice avatars to match their desired speaking style. However, it's positioning towards business users makes it slightly pricier than its peers.
⭐ Rating: G2 - 4.2, Capterra - 4.4, Trustpilot - 2.6
3. Playht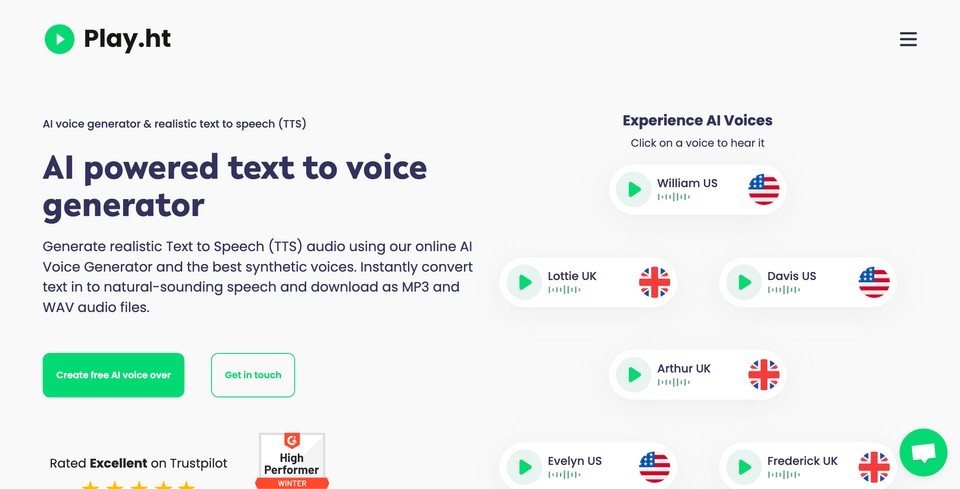 Playht is a reliable option for decent-quality voiceovers for videos, podcasts, e-learning, and other needs. The tool offers text-to-speech functionality, allowing users to convert written text into speech using synthetic AI voices.
Playht offers a free trial, after which users must pay a fee of $99 per month for access to all voices and features. Playht has a limited number of premium voices, but their quality is fantastic against their standard voices.
⭐ Rating: G2 - 4.6, Capterra - 4.0, Trustpilot - 4.1
You can read our detailed guide on Top 10 Text-to-Speech Platforms to learn more about these platforms.
Conclusion
In conclusion, picking the best text to speech platform can improve your overall user experience. It's not just a matter of getting the cheapest or most popular option but considering the factors that matter most to you.
Is customization your top priority? Or perhaps you need a platform that supports a specific language or accent? Whatever your needs, research and test different options before making a final decision.
And if you're still feeling overwhelmed by all the choices, feel free to seek out customer reviews to get a better gist of what each platform offers. After all, the best text-to-speech platform can take your content to the next level and give your audience an experience they won't forget.
So go forth, dear reader, armed with this knowledge, and choose the best text to speech platform for your needs. Trust me, your ears (and your audience) will thank you!