Introduction
The future of marketing is swiftly moving towards an era of automation. AI and machine learning have made it possible to perform various acts such as planning, video editing, etc., which took months to be achieved, to be done in a few seconds.
Marketing automation tools have become an integral part of the contemporary marketing stack. Brands look forward to developing more effective strategies to connect, interact and close new online leads. Due to these marketing practices, consumers, too, have shifted more towards digital platforms.
According to a Salesforce study:
Therefore, it is evident that marketing automation is quickly becoming a crucial element for progressive marketing teams.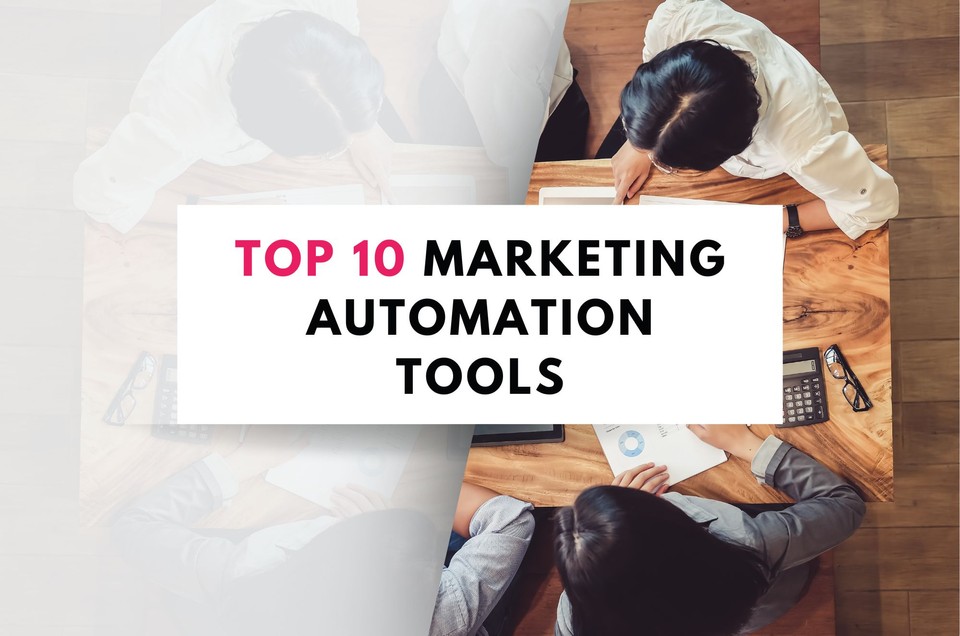 What are Marketing Automation Tools?
Marketing automation tools are digital solutions designed to simplify and automate repetitive marketing tasks, allowing businesses to streamline processes and enhance efficiency. Let's break it down with a couple of simple examples.
Example 1: Streamlining Emails with Marketing Automation
Imagine you run a cozy online bookstore. You want to thank customers for their purchases, offer personalized book recommendations, and keep them in the loop about upcoming sales. Doing this manually for each customer would be a Herculean task. Enter marketing automation tools like Customer.io. You can set up a workflow of emails to be sent automatically based on customer actions. The first email says thanks, the second suggests a book based on their purchase, and the third announces a sale. All done without you lifting a finger each time!
Example 2: Spice Up Your Videos with AI
Now, picture you're a professional chef who wants to market your delicious recipes. Creating engaging videos is necessary, but recording voiceovers and writing scripts for each video is time-consuming. Here's where an AI video tool like Fliki steps in. It can generate voiceovers using artificial intelligence, automatically create scripts based on your recipes, and even introduce AI avatars to guide your audience through cooking. It saves you time and adds a sprinkle of innovation to your content.
Marketing automation tools are not just about emails or videos; they're like digital helpers for various tasks. They can assist in managing customer relationships, scheduling social media posts, and even scoring leads. The goal is to make your marketing efforts more efficient and consistent across different channels. Essentially, these tools are the behind-the-scenes superheroes, allowing businesses to connect with their audience effortlessly.
Top 10 Marketing Automation Tools
Various companies provide marketing automation tools to help businesses achieve more sales and better marketing ROI. Here are a few top marketing automation platforms that marketers must know about.
1. HubSpot Marketing Automation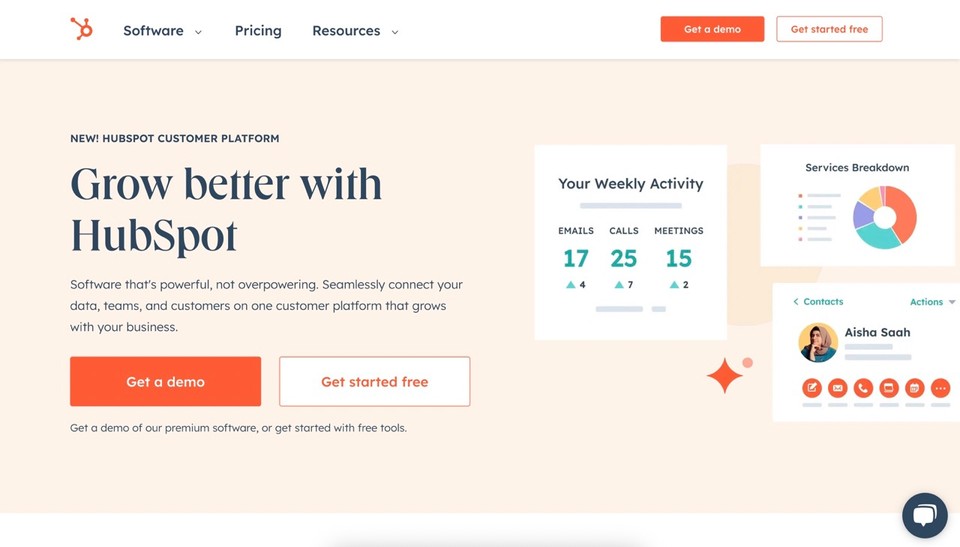 HubSpot marketing automation tool is known for its robust CRM features. HubSpot provides marketing automation solutions for various companies and specializes in inbound marketing.
It provides an easy-to-use workflow tool with a visual interface for streamlining repetitive activities. HubSpot seamlessly integrates CRM with sales, marketing, and support technologies.
Pricing: Starts at $20 per month (for individuals and small teams)
Pros:
Has a centralized mainframe.

Has robust CRM features that can be integrated with Sales, Marketing, Support and CMS.

Fantastic UI and UX, which is easy to use.

With HubSpot App Marketplace, it is easy to integrate with other tools.
Cons:
Heavy on the pockets

HubSpot only offers annual contracts. Hence, the entire amount for using its marketing automation solutions is to be paid at the beginning itself.
2. EngageBay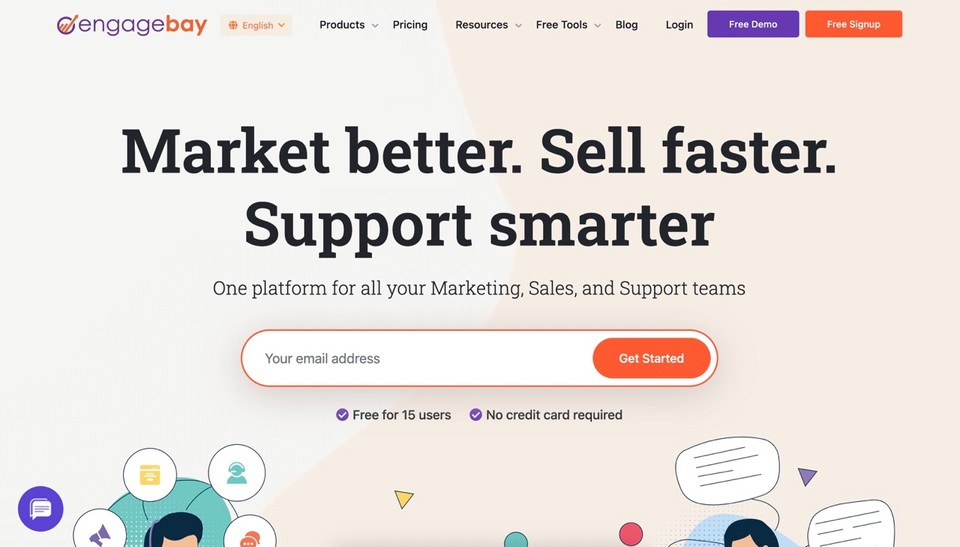 EngageBay is a marketing automation platform that helps acquire, engage and turn website visitors into paying customers. EngageBay offers an array of integrated solutions for sales, support, and CRM that help businesses form customer relationships and retain loyalty.
EngageBay provides features like landing pages, live chat and help desk, ticketing, phone, appointment scheduling, and automated email templates. This makes it suitable for both B2B and B2C businesses.
Pricing: Starts at $14.99 per month
Pros
Easy to use and affordable.

Efficient customer support.

Great user-interface.
Cons
It lacks features like integrating Google Meet, displaying location and calendar events, and customized report extortion.

It provides very limited landing page template options.
3. SocialPilot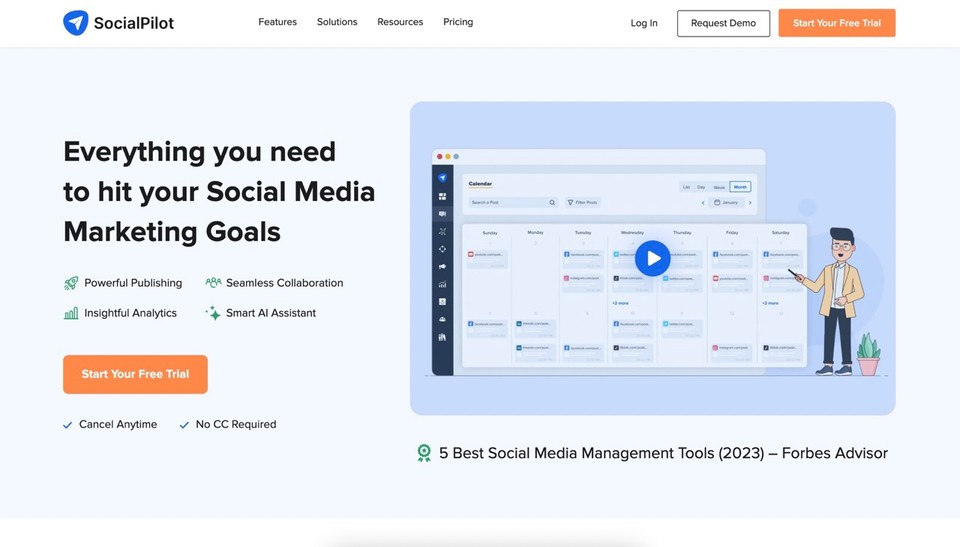 SocialPilot is a great social media management automation solution for various companies. Within its premium packages, marketers can access a comprehensive social media dashboard that can handle all the major social media networks.
With SocialPilot, one can easily create and schedule posts for platforms like Facebook, Instagram, Twitter, Google Business, TikTok and Pinterest. It also offers a content curation platform.
Pricing: Starts at $30 per month
Pros
Easy to use dashboard.

Can support 8 major social network platforms with integrations.

Keeps a recorded history that is easily accessible.
Cons
Cannot create one post which is suitable for all platforms. One has to create different posts for different platforms.

Cannot tag personal pages.

Simplistic build and, therefore, lacks advanced features.
4. Marketo Engage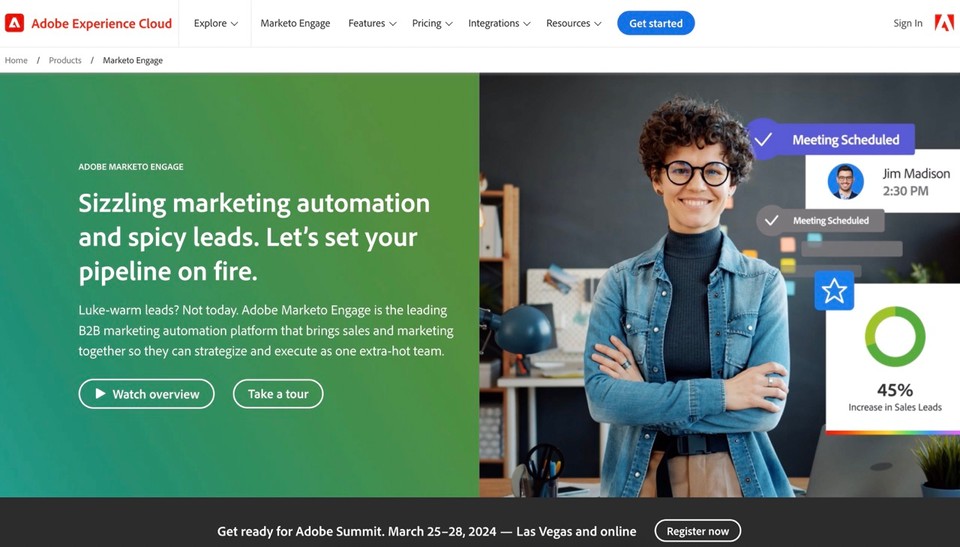 Marketo Engage is a marketing automation tool by Adobe that helps nurture leads and prospects across all channels. It also offers the feature of AI building predictive audiences and segments. Be it personalized experiences with active listening or triggered content, Marketo can help you do it all.
Pricing: Starts at $895 per month, depending on the services you sign up for.
Pros
Thorough campaign and lead handling.

Predictive content intelligence.

Strong attribution and analytics.

Perfect for intricate B2B advertising.
Cons
Not affordable for all individuals and companies.

Difficult-to-use interface.
5. Moosend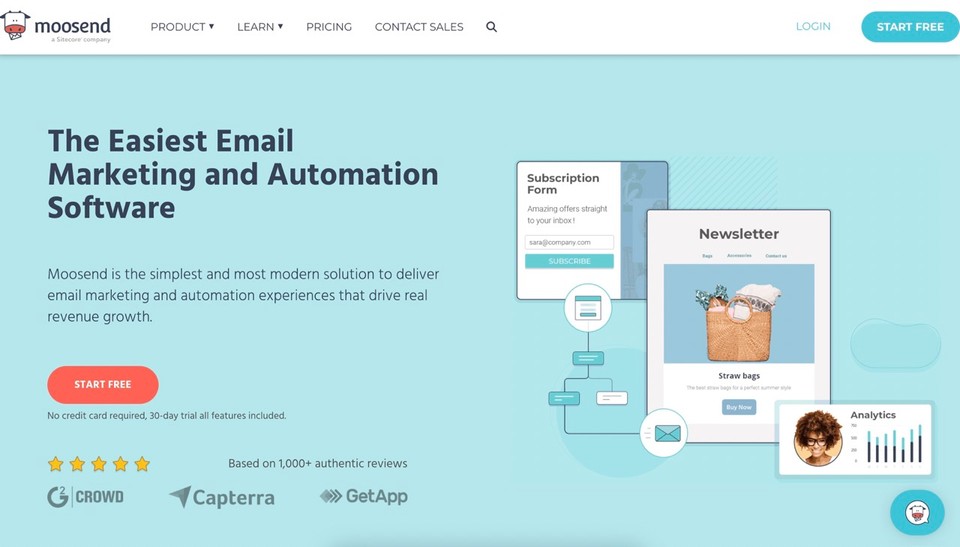 Moosend is an email marketing automation software that can create, send and track email performance. Moosend is known for its feature to automate repetitive tasks in email marketing campaigns, giving marketers a chance to focus on bigger tasks.
Moosend is a compatible choice for companies of all kinds that may leverage its wide range of capabilities. It is capable of handling several mailing lists and email campaigns. You may also make and send newsletters using its editor.
Pricing: Starts at $9 per month after the trial ends.
Pros
Reasonable price as compared to others.

Provides various useful features and a robust automation workflow.

The majority of functions are available in the free plan.
Cons
Customer support hours are not round the clock.

Does not use a very simple or attractive interface.

Does not have the latest email templates.
6. Omnisend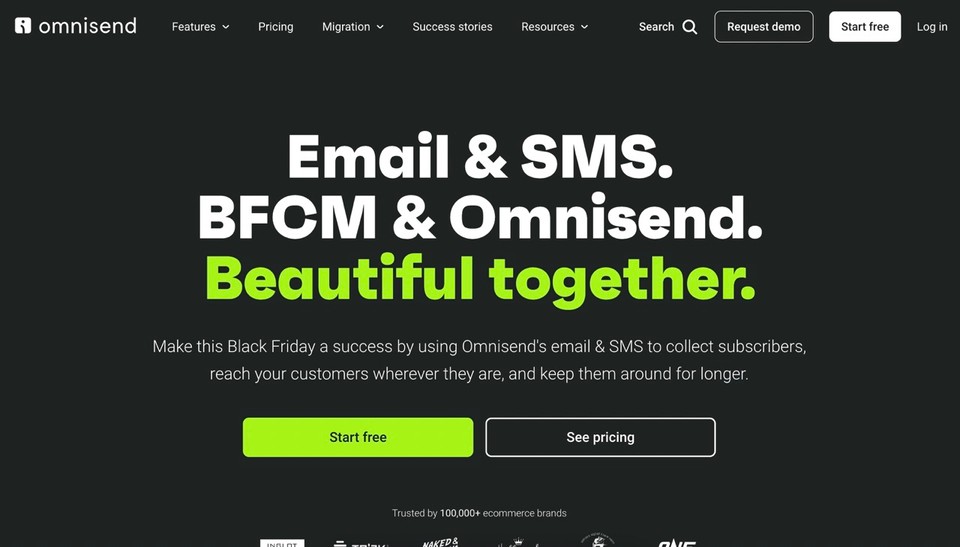 Omnisend is a marketing automation platform that offers email marketing, SMS marketing, text marketing, and more. It provides a multi-channel deployment solution. Omnisend automates the entire journey from lead generation to customer retention for any customer.
Unlike other systems, Omnisend lets you interact with your audience via email, SMS, and push notifications, all inside the same automated process. This software also provides options to synchronize your segments with Google and Facebook.
Pricing: Starts at $16 per month.
Pros
User-friendly interface and affordable price.

Round-the-clock and flawless customer support.

Provides integration options with all the popular eCommerce platforms.
Cons
Limited email design options.

Every social media campaign you start on this software needs all its data to be fed manually.

Set-up can be a difficult process.
7. DataFeedWatch by Cart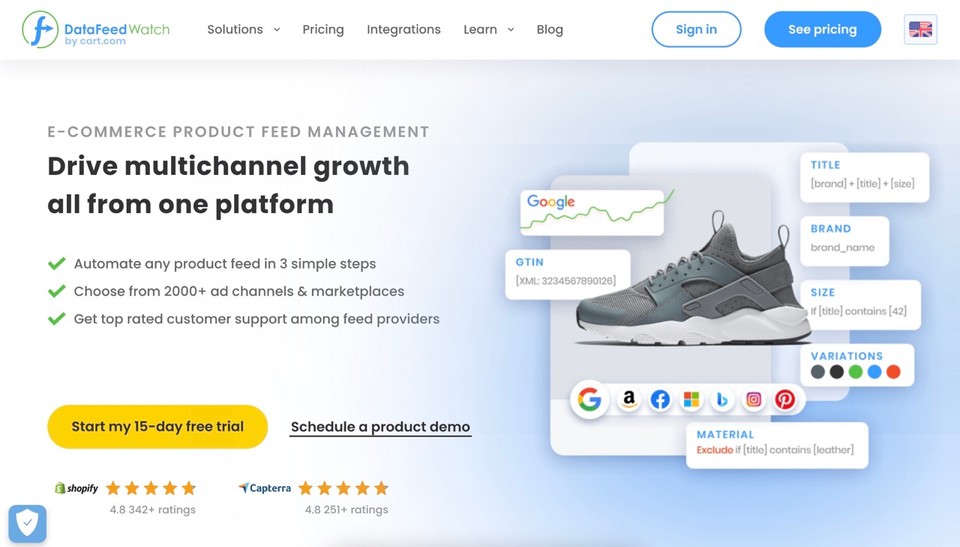 When it comes to advertising automation platforms, DataFeedWatch by Cart is the leading feed management automation solution in the market. The software allows brands to easily optimize their products' feed and set up a distribution channel across 2000+ shopping platforms such as eBay, Google, Facebook, Instagram, Bing, etc.
DataFeedWatch by Cart is one of the most popular marketing automation tools in the market presently. It is because of its ability to make products more visible and increase conversion rates of product ads.
It also provides product-level analytics to monitor the product listing performance on each channel.
Pricing: Starts at $64 per month.
Pros
Data feeds are created in a fast and easy way.

24/7 flawless customer support.

User-friendly interface with fantastic UX.
Cons
Takes some time to get to learn how this tool works.

Feed-based text ads can cost extra.

Only a limited number of products have the price monitoring functionality.
8. Pardot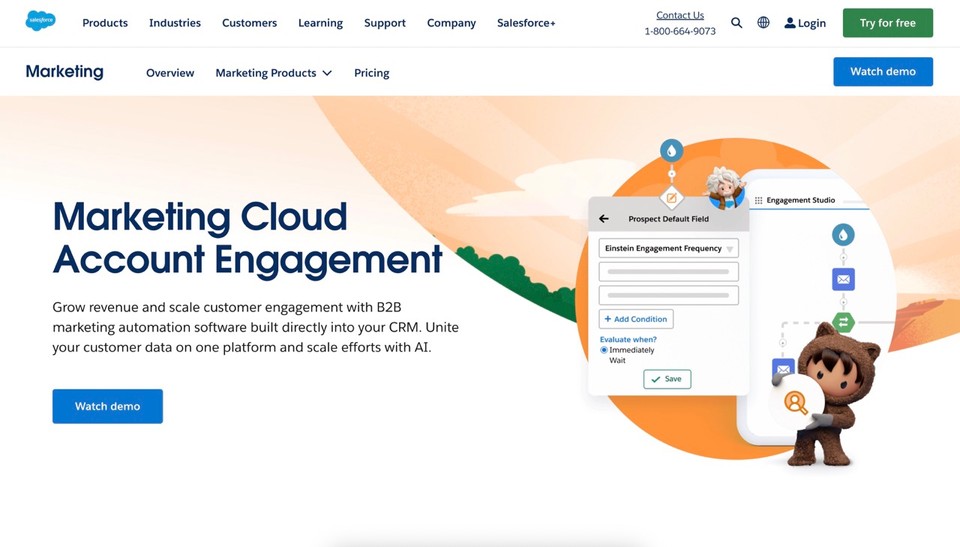 Pardot by SalesForce is a software-as-a-service (SaaS) marketing automation platform that offers email automation and targeted email campaigns. It also provides lead management for B2B sales and marketing organizations.
Pardot is known for automating common marketing tasks such as tracking customer behaviors and more.
Pricing: Starts at $1,250 per month.
Pros
Seamless data integration with SalesForce.

Flexible workflows and segmentation.

Powerful email marketing tools.

Excellent for aligning sales and marketing.
Cons
Cannot be afforded by small companies and start-ups.

It can only be used in the presence of SalesForce software.

It is not ideal for smaller teams.
9. Fliki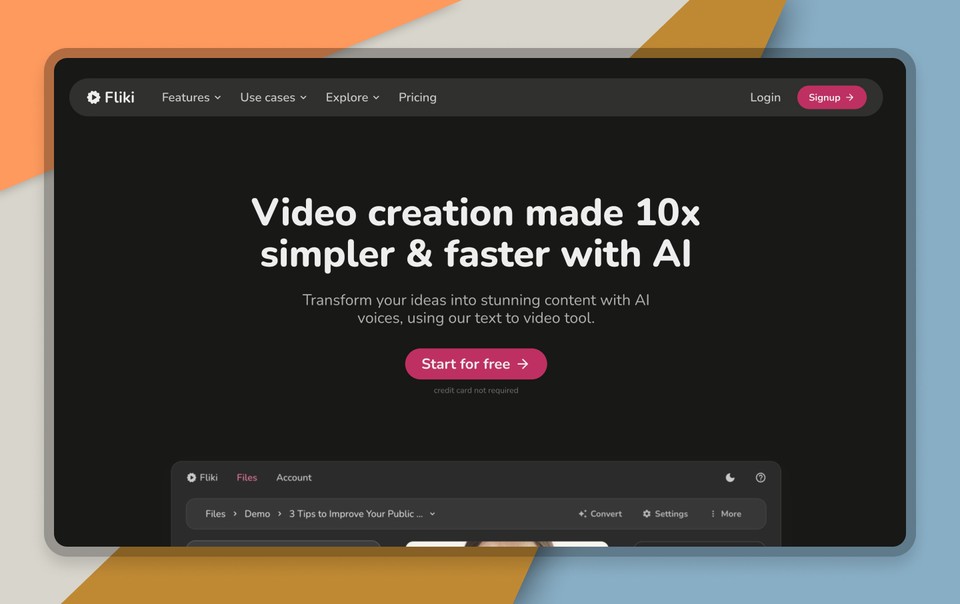 Fliki is an outstanding video marketing tool which helps you convert ideas, blogs, PowerPoint presentations and tweets into engaging videos. Fliki provides a number of features like availability of close to 2000 realistic AI voices, AI Art, auto-subtitles, voice cloning, animations, sound effects, etc to help you create quality videos effortlessly in a few minutes.
Pricing: Starts at $28 per month.
Pros
Provides Realistic Voices in 75+ languages and 100+ accents.

More affordable than other automated video marketing tools.

Has a friendly and easy-to-use user interface.

Provides advanced features like AI avatars, AI Art and Custom Voice cloning in 28+ languages, etc.
Cons
Free plan has limited features and credits.
10. Keap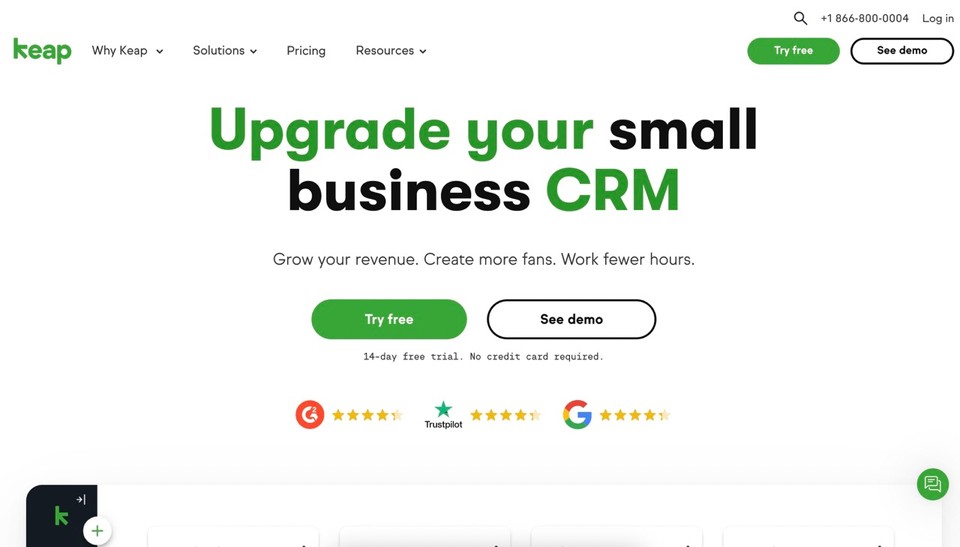 Also known by its previous name, Infusionsoft, Keap is a CRM platform that creates an amalgamation of sales and marketing automation. It is particularly used by eCommerce startups looking for comprehensive sales and marketing workflow automation solutions.
Features include invoicing, handling e-commerce operations, including inventory, payments, and order fulfillment, contacts segmentation and tracking customer interactions.
Pricing: Starts at $199 per month.
Pros
Provides access to a customer success manager.

Provides a fantastic setup with great support.

It is an easy-to-use platform.
Cons
Quite expensive than its competitors.

Tasking to learn at the beginning.

Lacks the presence of an inbound marketing module.
How to Compare Marketing Automation Tools?
Here are a few tips that can help you compare and evaluate marketing automation platforms suitable for your needs:
Set objectives and determine the essential skills. Which issues are you attempting to resolve? Sort features into must-haves and nice-to-haves.

Think about your team size and budget. While some systems are more complicated and offer commercial pricing, others are more suited for small businesses.

Examine key components such as CRM integration, social media tool integration, email marketing, landing page creation, workflows, segmentation, analytics, etc.

Consider the learning curve and simplicity of usage. While some demand specialized abilities, others feature user-friendly drag-and-drop interfaces.

Evaluate the integration of platforms. Is it possible to sync important data using APIs with your other martech tools and applications?

Look at options for multilingual assistance and worldwide capabilities, if necessary.

Examine the resources for training and customer service. This may facilitate adoption.

As your marketing efforts mature, take scalability requirements into account.

To truly test drive systems with your data, sign up for free trials.

To acquire fair opinions on benefits and drawbacks, go through internet reviews and speak with others.

Consider your digital marketing plan and how the automation platform fits your long- and short-term objectives.

Compute possible ROI and compare the expenses of different options. Include all implementation and continuing expenses.

Platforms with strong security, compliance, and data protection controls should be given priority.

Seek out from vendors' thinking leadership and ongoing platform innovation.
Wrapping Up
Marketing automation is now a crucial part of contemporary marketing tactics. Marketing automation system will give marketers more efficient methods to interact with prospects, nurture leads, and increase conversions as their technology and capabilities develop.
Nevertheless, before using marketing automation, it's crucial to thoroughly evaluate your unique requirements and objectives. However, all platforms are not created equally. Therefore, weighing in all the features of the marketing automation tools you are employing is important.
By correctly implementing a marketing automation system, firms may attain notable improvements in productivity, efficiency, return on investment, and data insights. However, marketing automation is not a panacea; its implementation requires knowledge and experience.
The secret to success is investing in platform training and automating existing processes. In today's highly digital business world, forward-thinking organizations will embrace marketing automation as a strategic advantage, even though it does involve an initial investment.
Frequently Asked Questions
1. What are automated marketing tools?
Automated marketing tools are software that can handle routine marketing tasks without human effort.
2. What are the benefits of automated marketing tools?
Automated marketing tools can benefit a brand or company in many ways. It can help them gain better customer knowledge, provide better customer service, and help them in proper lead tracking and lead nurturing.
3. How much time do automated marketing tools save?
Automated marketing tools have reportedly increased sales productivity by 14.5 percent. Moreover, research shows that automated ads and social media posts can save over 6 hours per week.
4. What problems do marketing automation tools solve?
Marketing automation tools can automate repetitive tasks such as email marketing, social media posting and ad campaigns.