Introduction
Did you know that 90% of the top-ranking YouTube videos have a target keyword in their titles? Keyword is just one aspect that impacts YouTube rankings.
Ranking your videos on YouTube is an effective way to get more views, traffic, and subscribers. Whether you're a content creator or a business marketing your brand through videos, having your videos reach a wider audience is the primary goal, which is what ranking helps you do. Brian Dean has acquired over 500k subscribers by effectively using SEO practices to rank his videos.
YouTube works like a search engine in itself. In fact, it has more than 3 billion monthly searches, higher than popular search engines like Yahoo! and Bing. So, how do you scale your videos to the top positions in YouTube search results?
The blog has the exact answers to this question. Dive in to grasp the importance of YouTube SEO and learn how to rank videos on YouTube with tried and tested SEO tips and tools. Let's get started!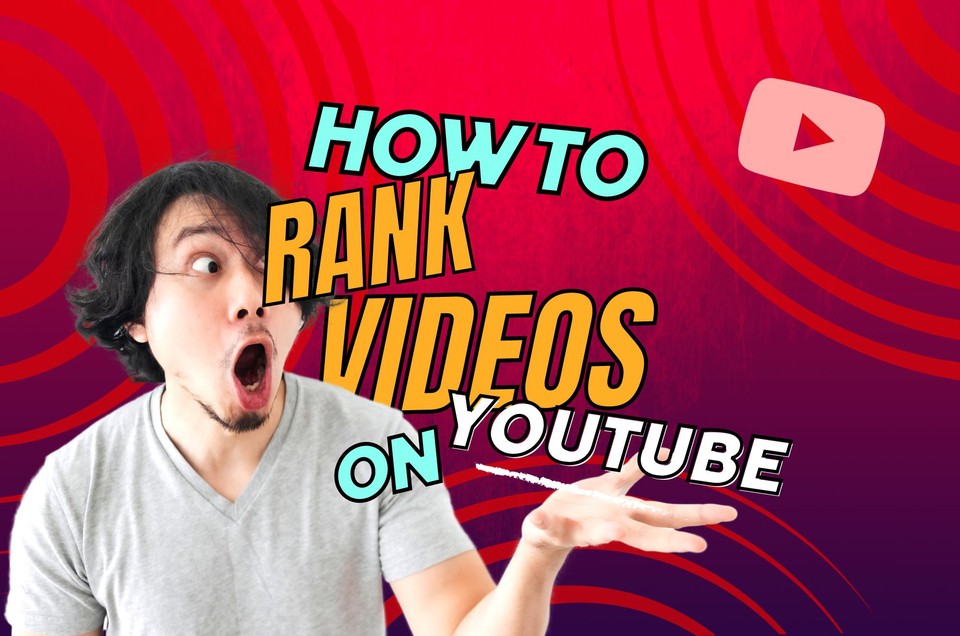 What is YouTube SEO?
Search Engine Optimization (SEO) is a dynamic process of optimizing web content to improve its chances of ranking on search engine result pages (SERPs). Ranking your web pages on Google and other search engines involves factors like backlinks, keywords, etc.
YouTube SEO is a similar process that focuses on optimizing YouTube channels and videos to improve ranking on YouTube search results. It involves strategies such as optimizing video descriptions, keyword research, script optimization, and more.
YouTube's algorithm focuses on providing viewers with the most relevant video results so they will stay on the platform longer. As such, it considers several metrics to evaluate the videos. Search engine bots typically cannot watch videos; hence, they evaluate the text data accompanying the videos to index them. That is why optimizing the video transcripts, captions, subtitles, etc., directly impacting viewership and user experience, is essential to your YouTube SEO strategy.
Additionally, YouTube videos can be optimized for ranking within YouTube's internal and external search engines. So, an effective combination of YouTube optimization and external SEO is crucial to building a strong YouTube video SEO strategy.
Why is YouTube SEO Important?
Streamlining YouTube SEO strategies is vital for content creators to increase their visibility and grow their channel by acquiring more subscribers. Here are some key benefits of video SEO to encourage you to learn how to rank videos on YouTube.
1. Higher views
Appearing on top of search results means more people will click on your videos and view them. It will also result in more likes and shares, enhancing your visibility, which is essential to increase your reach.
2. Improved conversions
Focusing on YouTube SEO allows you to improve conversion rates. As you generate more traffic for your website through YouTube videos, you have a higher chance of converting them into customers. Additionally, more subscriptions can translate to higher revenue on YouTube.
3. Enhanced engagement
Optimizing your video title, descriptions, etc., helps you reach out to viewers who will watch your videos longer and like, share, or comment on your videos. It will help you enhance user engagement and build a loyal subscriber base to grow your channel.
4. Growth in organic traffic
Optimized YouTube videos can help you induce higher click-throughs to your website or social handles. A higher-ranking YouTube video with a website or social media link will generate direct organic traffic and increase brand awareness.
5. Competitive advantage
Improving YouTube video ranking with SEO is essential to stand out from competitors. A higher ranking means viewers will watch your videos first, giving you a competitive edge over those not optimizing their videos.
Understanding Components of YouTube SEO Strategy
To rank YouTube videos, it is essential to build a strong YouTube SEO strategy. It is a simple but essential process that most people overlook. Let's have a look at the crucial aspects.
1. Understanding How YouTube SEO Functions
Google owns and operates YouTube. Hence, YouTube search algorithms are similar to Google. The algorithm considers the following elements to decide your video ranking.
Video Title

Video Description

Meta Data

Number of Views

Watch Time

Audience Retention

And More
It also analyzes the user's watch history and combines it with these elements to evaluate your video's relevance to the user's query.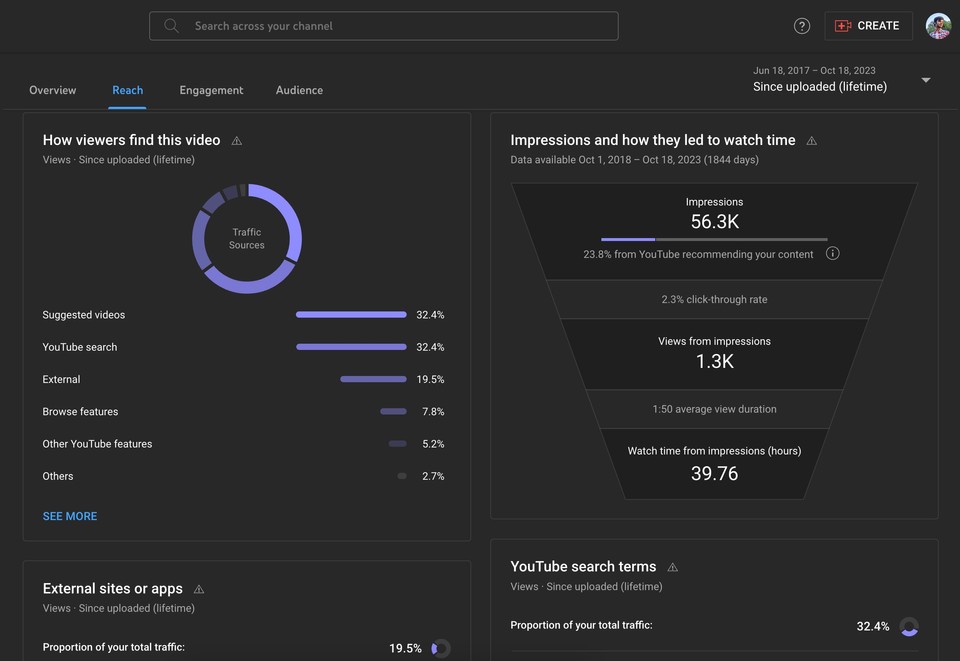 2. Identifying Your Target Audience
Identify people who would like to watch your video. Understand their intent on the platform, research the channels they visit, identify their interests, analyze other creators they might be following, and more.
3. Developing a Content Plan
Having a video and knowing when to post it is not enough if you want to improve SEO for YouTube. Determine the resources you will use to generate more traffic, boost conversions, enhance engagement, etc. Focus on competitive analysis to find the right kind of videos.
4. Creating a High-Quality Engaging Video
Audience retention, as discussed, is an essential factor that YouTube considers for ranking videos. To increase retention, it is imperative that people keep watching your videos. So, create videos that are engaging and valuable to the viewers, especially your target audience.
5. Optimizing Your YouTube Videos
Optimizing your video and channel per YouTube's algorithm can help you increase your rankings. Paying attention to relevant keywords, optimizing video descriptions and titles with the keywords, etc., are some of the optimization techniques that we will further discuss in the next section.
6. Promoting Your Videos
YouTube cannot measure the relevant ranking factors without views on your videos. People must watch your videos to understand if they like it or not. You can promote your videos on online forums, include a video link in your email signatures, embed the videos in your blogs, and more.
7. Setting Goals and Tracking Them
Utilize YouTube's metrics to track your goals. Choose metrics that align with your specific needs. For instance, if you aim to increase user engagement, track metrics like number of shares, comments, likes, watch time, etc.
Top SEO Tips for Ranking Videos on YouTube
Now you understand the aspects of how to rank videos on YouTube. Here are some SEO tips for YouTube to help you apply them effortlessly.
1. Focus on Keyword Research
Keyword research is the first step to ranking videos on YouTube. Start your keyword research by focusing on these three types
Primary Keywords- High search volume, highly competitive

Secondary Keywords- High search volume, low competition

Long-tail keywords- Niche-focused phrases
For external SEO, you can use popular keyword research tools like SEMRush, Google Keyword Planner, etc. You also use a simple Google search to view search suggestions, people also ask, related search results, etc.
2. Include Target Keyword in Video File Name
YouTube search bots cannot watch your videos, but when you insert keywords in the final name, they consider it a crucial ranking factor. If your video file has the keyword in its name, it will effectively improve its chances of ranking on the search results.
For instance, instead of using the raw file name 'Tips_YouTube_FinalCopy.MOV,' you can replace it with a keyword, which may be '10 tips to improve SERP rankings.' So, your file name can be '10_tips_to_improve_SERP_Rankings.MOV.'
3. Insert Keyword in the Video Title Naturally
The video title is the first thing viewers notice to decide whether they want to watch. So, the title must be catchy and match the viewer's intent. So, when you use a keyword in the video title, it resonates with their search and increases your video's relevance, consequently enhancing its ranking chances.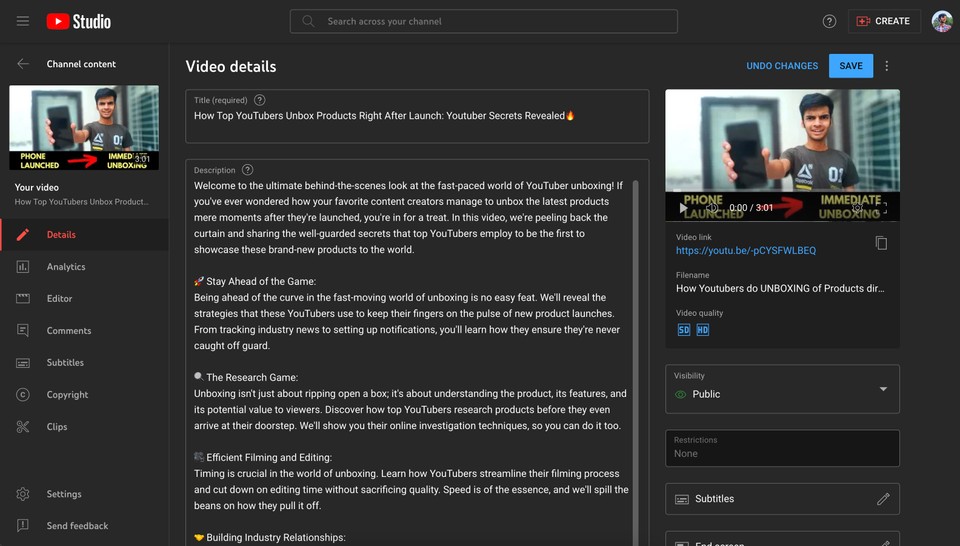 4. Optimize the Video Description
Google has set the character limit for YouTube video descriptions to 5,000 characters. However, when your video appears on the result page, it will only display 2-3 lines of your description.
As such, including the most relevant information within these lines is essential. It is the perfect position to incorporate your main keywords as YouTube displays the words from the description in bold that match the user's query. Approximately 75% of the top-ranking YouTube videos use broad-match keyword variants in their descriptions.
5. Categorize Your YouTube Video
YouTube has several broad categories to classify your videos, such as film and animation, auto and vehicles, travel and events, etc. It helps it identify the channels producing quality content in that category.
Therefore, it is essential to put your video into a category under the advanced settings. It will improve its chances of appearing in search results with videos with similar content, increasing viewer exposure.
6. Design a Custom Thumbnail Image
Thumbnails can make or break your chances of getting a click or view on YouTube, as it is a crucial deciding factor for viewers to open a certain video. Visually appealing thumbnails that stand out can influence users to click on the video.
According to a study, adding a good thumbnail can help you get twice the number of views and traffic to your videos on YouTube. A higher number of clicks is a vital factor for improving SEO ranking.
Create custom thumbnails that showcase what your video is about to grab the viewer's attention. They should be in JPG, GIF, or PNG format and have a resolution of 1280×720, with the size not exceeding 2MB.
7. Attach Subtitles and Closed Captions
Including important keywords in the subtitles and closed captions can significantly improve YouTube SEO. Closed captions are essential to improve social-media accessibility and fill in audio gaps. Research suggests that 80% of viewers will likely watch the entire video if captions are available as they become easy to follow.
As such, you can use captions and subtitles to include your keywords for better ranking. However, avoid YouTube-generated auto-captions as they are only 70% accurate and can affect SEO for YouTube. Instead, use an SRT file to include accurate subtitles and closed captions.
8. Include Cards and End Screens
Cards and end screens allow you to promote related videos. Cards are the small interactive icons in the upper right corner of YouTube videos that offer suggestions for other videos, encourage subscriptions and more. You can add up to five cards in a video. End screens are similar to cards, but they appear toward the end of the video.
9. Add Video Hashtags
Hashtags help users find the content they are looking for. Including hashtags in your YouTube videos' descriptions can improve their reach and boost discoverability. However, do not go overboard with the hashtags, as YouTube algorithms may flag your videos for spamming. Pick 2-3 relevant hashtags that describe your content accurately.
10. Create a Video Playlist
Group your videos into keyword-optimized playlists when there are many videos on your YouTube channel. It helps viewers navigate your videos easily and increases clicks and views as they check out your videos one by one, enhancing their ranking chances. Moreover, YouTube also finds it easier to understand what your videos are about.
11. Use Timestamps
Timestamps let you mark different sections, which allows YouTube to understand the most important segments in your videos, improving SEO.
Moreover, timestamps in the Google search results appear as 'key moments.' If a user query matches the timestamp, Google directs the viewer to that specific point in your video. It improves user retention as they can easily jump to the section they want.
Essential YouTube SEO Tools
Checking all the boxes in the SEO process may seem overwhelming. But when you think about how to rank videos on YouTube, several tools help you optimize videos, simplify keyword research, track video performance, and more. Here are our top picks-
Fliki
Fliki speeds up your YouTube content creation process with its AI-powered video-generating features. Add voiceovers, include subtitles, use text-to-speech, voice cloning features, and more to enhance your videos effortlessly for better user engagement.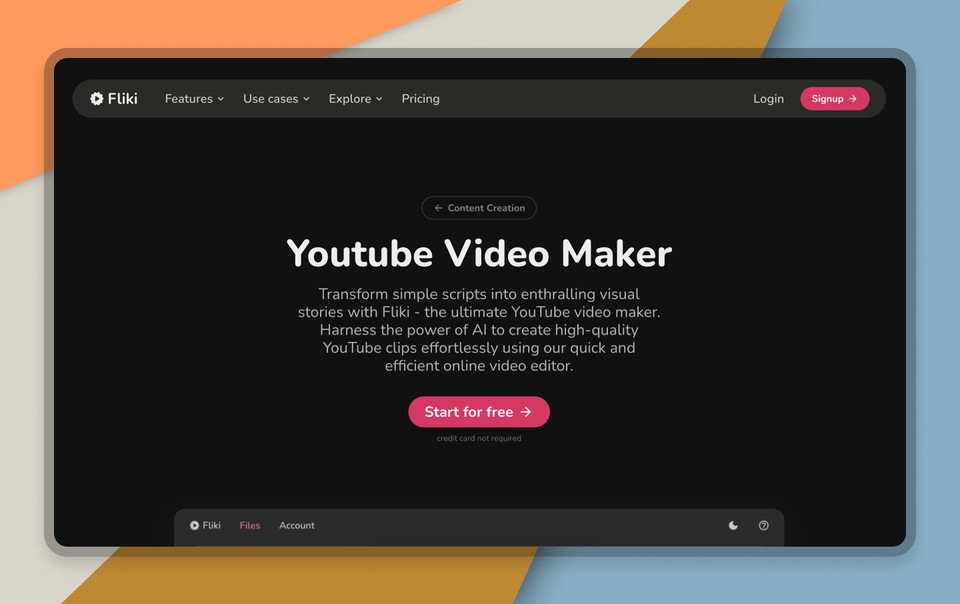 SEMRush
SEMRush is a comprehensive SEO platform that helps you research relevant keywords for content creation. You can analyze the monthly volume, competition, SERP positions, and more to identify ideal keywords.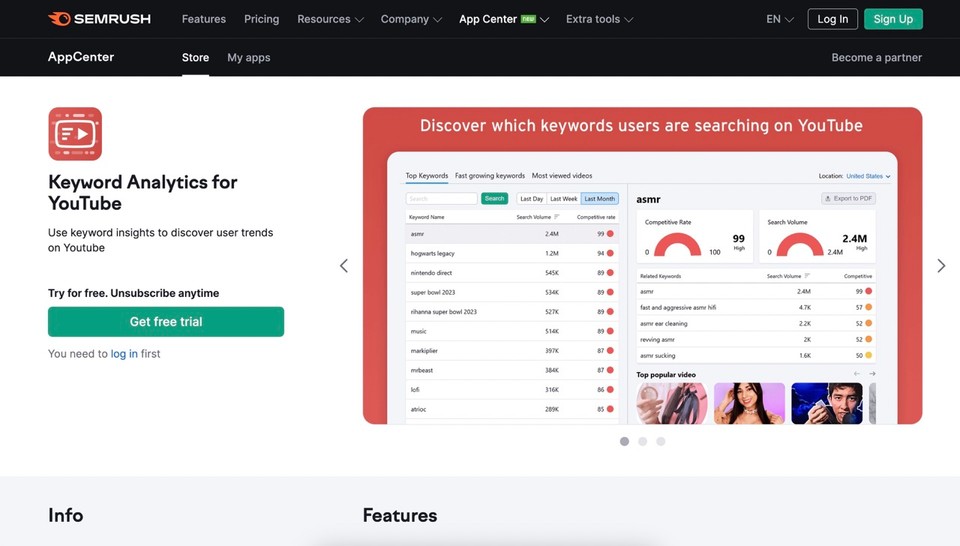 TubeBuddy
TubeBuddy is an all-in-one tool for keyword research, video translations, generating descriptions, auditing your content for SEO-friendliness, getting tag suggestions, tracking published videos, and more.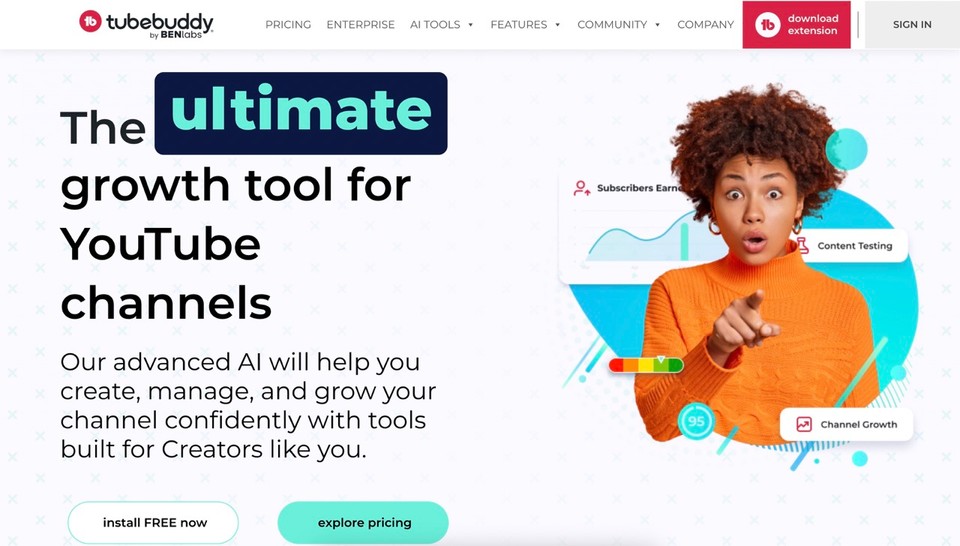 VidIQ
VidIQ is an excellent tool for analyzing the factors resulting in a video's success. It examines elements like tags, average watch time, etc., to understand why the video performed well and helps you improve your SEO score to surpass that video's success.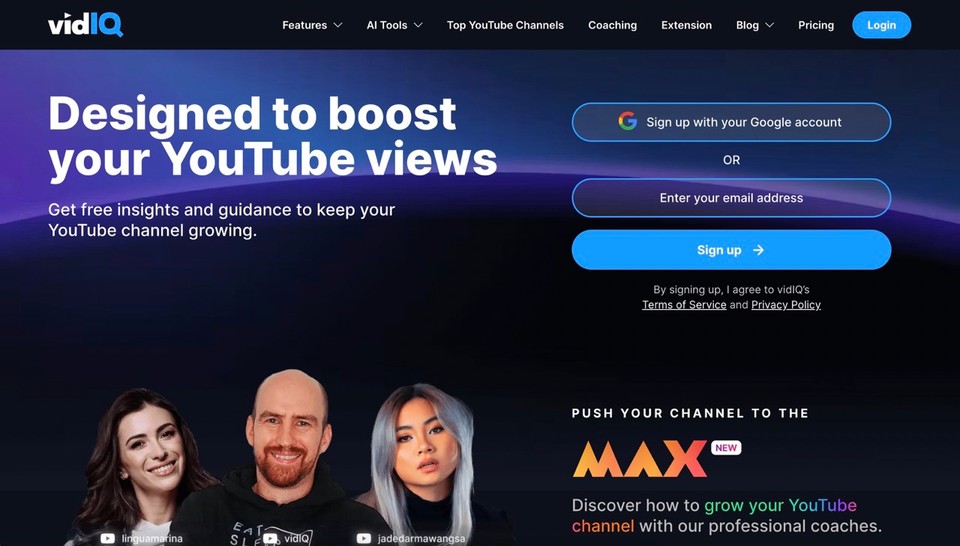 Canva
A user-friendly design tool that helps you create captivating YouTube thumbnails and more. Canva also has a specific thumbnail template to simplify the process.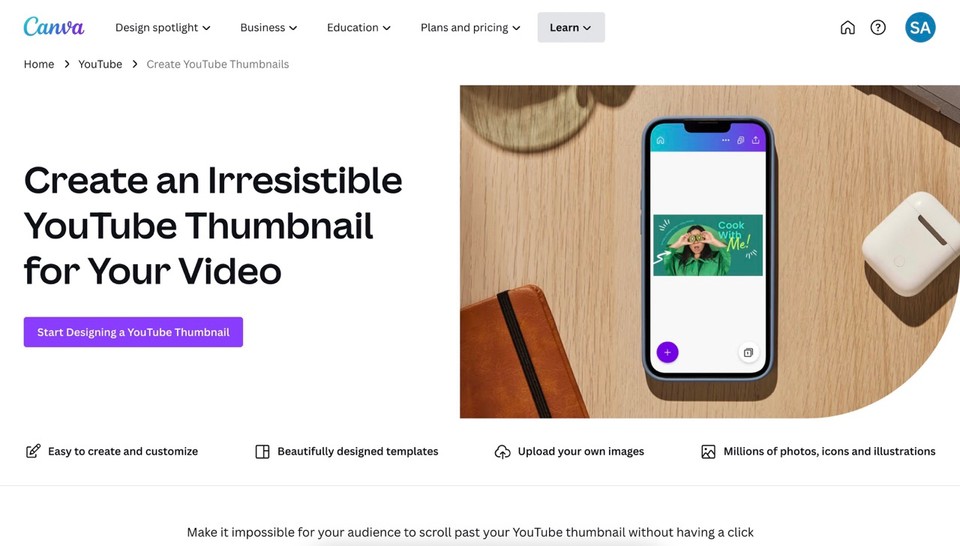 Common Mistakes to Avoid In YouTube SEO
Even while understanding the importance of SEO for YouTube, there are common mistakes content creators make that you should avoid.
1. Writing short descriptions without keywords
Including a structured description with exact-match keywords helps YouTube determine when to display your video in the search results.
2. Not mentioning the keywords in your videos
As discussed, closed captions and subtitles are crucial to SEO on YouTube. Saying the main keywords in the video aloud will allow them to appear in captions, which can impact SEO.
3. Not focusing on key metrics
Analyzing metrics like audience watch time, audience retention, click-through rates, audience engagement, etc., is important in improving your video rankings. It is necessary to track these metrics to improve the overall quality of your videos.
4. Using substandard thumbnails
We know how thumbnails help improve click-through rates. Thumbnails that do not grab viewer attention or do not look valuable can be detrimental to your SEO efforts.
5. Not encouraging user engagement
Engagement metrics like comments, shares, likes, etc., signal YouTube that the viewers like your video. Hence, promoting engagement helps SEO. Interact with the viewers, reply to their comments, and, most importantly, do not hesitate to ask for likes, shares, and subscriptions.
Case Study: How Brian Dean Acquired a Massive Subscriber Base on YouTube
Wondering how these YouTube SEO practices will help you grow your channel? Let's see how Brian Dean, founder of Backlinko, a popular SEO and link-building training website, made it happen.
Brian Dean currently has over 500K subscribers on his YouTube Channel. Dean asserts that focusing on keyword searches is the first step. One of his videos ranks first on search results for the keyword 'YouTube views' and generates over 30k monthly views. He emphasizes that one should prepare a list of seed keywords that cover the broad topic, then move on to find long-tail keywords related to the seed keywords using a keyword research tool. Once done, Brian suggests identifying low-competition keywords using tools like TubeBuddy.
Now, the process moves on to optimizing the videos for watch time. These are the best practices Dean follows for his videos-
Creating long videos

Keeping the intro straightforward

Creating pattern interrupts using B rolls and graphics

Developing a video plan using a crisp script before initiating the creation process.
It goes unsaid that Dean gives immense attention to optimizing the videos for SEO. He uses exact keywords in the video titles, writes clear titles without any click baits, uses SEO-friendly in-depth video descriptions, adds catchy thumbnails using colors that stand out, creates optimized playlists, and promotes his other videos across his blogs and websites – basically, all the best practices of SEO for YouTube.
Dean also focuses on ranking his YouTube videos on Google. It can help acquire more views. He mentions that 36.4% of his external views come from Google searches. He suggests that using the same keyword that helped the video rank on YouTube is the key. In fact, one of his videos ranks 3rd on YouTube for the keyword "How to get more views on YouTube" and ranks on Google, too.
Wrapping Up
YouTube has emerged as a substantial marketing channel for businesses and an effective medium of income for creators worldwide. Hence, learning how to rank videos on YouTube is essential for your channel's growth and gaining more business conversions.
The SEO tips discussed in this article can significantly help you enhance your video's visibility to build a strong community on your channel. But whatever tips or tools you follow, remember that content is king, and high-quality video is what your audience is looking for. Fliki can be a reliable partner in your YouTube content creation journey. Explore today!