Introduction
No matter the industry your business serves, building credibility and trust is a necessity.
To a potential customer, a testimonial is relatable and trustable, acting as a personal recommendation from friends. In fact, 74% of customers say that reading online reviews helps them place their trust in a brand, while it helps 93% make a purchase.
Videos also establish trust among customers and enhance the buying journey, with 91% of consumers demanding more video content from a brand.
Putting the two together brings into the picture a powerful tool – video testimonials. In a world saturated with staged advertisements and fake news, video testimonials offer genuine interactions and experiences of people with your brand. When customers see and hear someone like them talking about your product or service, they're more likely to trust you.
The numbers say so, too! 37% of people find video testimonials more authentic, and 79% use them to learn more about a business and its offerings.
But what does it take to create a video that makes customers feel that an impartial bystander is helping them? How can you ensure your video testimonial offers an authentic view of your brand from your customers and, most importantly, helps to establish trust?
Dive into this blog to uncover the ins and outs of video testimonials as we discuss the best practices and tips to create a powerful customer testimonial video that delivers results.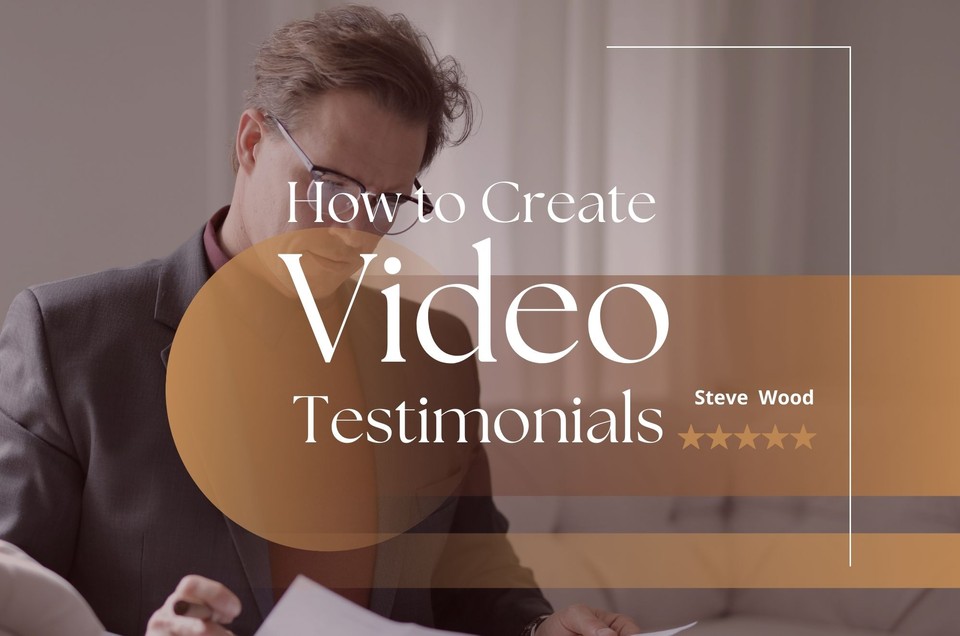 Understanding Customer Testimonial Video: What Makes it Important?
A customer testimonial video is a marketing asset that features an existing or past customer sharing their first-hand experience with your product or service. It offers a raw and genuine presentation of your brand through a customer's unique voice.
Video testimonials are effective because they feature real people sharing their experiences. Usually, no script, acting, or fancy production is involved—just heartfelt, genuine feedback from satisfied customers.
Plus, they're more in-depth than written reviews, simple to understand, engaging, and attractive.
That's why video testimonials boost conversion rates by up to 32%.
If you are still unsure, consider these five reasons to add video testimonials to your marketing plan.
1. Human Connection
It is a known fact that people trust other people more. Individuals are likely to believe what other consumers say about a particular brand or its products/services when choosing between brands and consumers.
With that said, video testimonials instill a human touch to your marketing strategy. They enable potential prospects to see and hear the reaction of actual folks with your business. This human connection goes a long way to build trust and foster a bond with your audience.
2. Element of Storytelling
Humans have been telling stories for ages, and we're naturally wired to connect with them. It is hard to deny, as such, that storytelling is a powerful tool for brands to connect with customers and garner their trust.
Video testimonials tap into this power of storytelling – as they're nothing less than a story. When a customer or client shares their opinion of buying or working with a brand, it's a compelling narrative of their journey and experience.
For instance, check out this testimonial shared by Codeacademcy that amassed 10 million views within a year of posting. It shows a young woman sharing her story of getting into the profession of her dreams after taking coding courses with Codeacademcy.
3. High Retention Rate
Let's analyze: the customer must browse the testimonials before they decide to trust and purchase from you. What do you think will better attract and retain their attention? A written piece of information or visually attractive moving stills that allows them to see and feel other people's emotions. The latter, of course!
Viewers will not only watch the complete video as opposed to the written review that's often left in between, but they will also retain 95% of the message viewed through video compared to 10% when reading.
4. Tangible and Social Proof
Video testimonials serve a dual purpose: they showcase the tangible benefits of a product/service and give social proof, reflecting how people have benefited from the brand to win the trust of new consumers.
For instance, if a business runs a fitness and health center, a video testimonial can focus on customers discussing their weight loss journey, showing before and after pics and how the center changed their lives. This not only acts as a review or feedback of the business but also informs about their service.
Notably, 47% of people say that video testimonials help them visualize how a product and service works, which improves their understanding of them.
Check out this testimonial of Slack from their customer South by Southwest, demonstrating how a business running on a large scale can stay in the loop with the Slack messenger.
5. The Preferred Way
Undeniably, video is the most preferred form of content, as people watched an average of 17 hours of online videos per week in 2023. According to HubSpot Blogs Research, 66% of consumers learn about a brand or product by watching video content, including reviews. Moreover, consumers are 52% more willing to send and share video content than any other content form.
All these stats point towards one thing: creating testimonials in video format will get more views, likes, shares, and conversions.
How to Create a Powerful Customer Testimonial Video?
While creating a powerful testimonial video may seem challenging, it is not so difficult.
With proper preparation and the right tools like Fliki, it is straightforward to develop a compelling customer video testimonial. Here's a step-by-step walkthrough that will help out with how to make a testimonial video.
1. Choose the Right Customer
The first step for testimonial video production is selecting the right customer, perhaps the most successful one. It may seem pretty easy, but it's the most critical aspect – it will either make or break your video.
The customer you select will be the star of the testimonial video whose narrative will attract more customers to your brand. So, choose someone with a great relationship with your product or service. Bonus points if you find someone who is an authoritative figure.
Typically, video testimonials highlight different use cases. On that note, emphasize how that respective customer used your product and achieved results to convince fellow customers about its benefits.
Take a look at one of these testimonial video examples of HubSpot that focuses on its client, Health Metrics. Terri Chan, Group Vice President of Growth and Marketing, Health Metrics, discusses their enthralling experience with HubSpot's software and how it helped enhance leads. It's a great example because the customer selected is an authoritative figure who seems reliable and talks about how the brand helped them increase leads.
2. Plan and Outline the Shoot Beforehand
While the best testimonial videos have a sense of spontaneity, that doesn't mean no prior planning is involved. The trick is planning your shoot while allowing customers to speak naturally.
Here are a few things to focus on during the outlining phase-
Create and share questions beforehand
Customers are not typically professional actors, so they need time to prepare. They will not be able to answer a question on the spot – not in a detailed and effective way. So, once you've chosen the customer – come up with a list of questions they will address in the testimonial video. These include:
Who are you, and what is your business?

What problem or challenge did you face before purchasing the product?

How did the product help to solve the problem?

What do you think are its USPs?

Will you recommend the product to other people?
Sharing these questions prior will allow customers to ponder and answer them clearly in the video.
Choosing the location of your video is often overlooked but is an important part of the process. Ideally, pick a location with great lighting and no background noise so that the image and sound quality are spot-on in the video. Don't be afraid to mix it up when it comes to locations - more scenes in your video means more variety for viewers, so they're more likely to engage.
There is no need to invest in a cinema-grade camera for a testimonial video. Recording it with a high-quality lens, even on the phone, makes your customer look good and ensures proper audio recording is enough. However, if you're short on resources and funds, you have tools like Fliki to convert textual testimonials into interesting videos with AI voiceover.
3. Film and Edit
It's time to get the cameras rolling now that everything is planned. Remember, the goal is to have a high-quality video, so don't attempt to scrimp on this step.
While outsourcing is one option, creating a video testimonial yourself is not difficult, considering the abundance of video editing software available.
When shooting the video, ensure the recording is done from multiple angles so things don't become monotonous. Then, during the editing part, mix and match clips from multiple angles, add transitions and include animations and gifs to produce an appealing piece.
Focus on quality over quantity. According to Animoto, 59.9% of viewers indicate that a long video would strongly deter them from watching it. So, keep the duration of your customer testimonial video between 2-3 minutes. Ensure it answers your shared questions and highlights customers' experience with your products or services.
4. Promote the Testimonial on Different Marketing Channels
Now that you have the high-quality customer testimonial video, it's time to share it!
Use the testimonial on your social media channels or website to improve visibility. You can even send it to prospects directly as well with newsletters. Incorporating them on landing pages would enhance trust and encourage conversions. As per stats, those using videos on landing pages can boost conversions by 86%.
Better yet, strategically place your videos across product pages. This will encourage customers to hit the "buy" button.
See this example from Monday.com, which features a video testimonial on their product page. This offers the social proof and credibility customers require to trust and purchase from them.
Successful Practices and Tips for Customer Testimonial Videos
While multiple factors are considered in making a video testimonial, the path to walk on depends entirely on you. Here are some successful practices and tips you can implement to take your video testimonials to the next level.
1. Tell a Compelling Story
As stated above, the power of video testimonials lies in their storytelling aspect.
So, a good customer testimonial video will have a narrative that draws viewers in and evokes emotions. Ensure to include key elements of a story, such as a protagonist (customer), conflict or problem they're facing, and the solution that wraps everything up.
For instance, check out this ForeseeHome testimonial from their customer, Susan, with a personal and heartwarming touch. We're told the patient's name and given a peek into her life before understanding how the company helped monitor her vision problems for early treatment. The addition of animation and sound effects adds to the testimonial video.
2. Highlight Benefits and Use
A high-performing customer testimonial video talks about benefits rather than features. The video aims to build trust and credibility in your business and its offering. What better way to do so than by showing your products in action and how it has benefited others?
Here's an example of ClassPass that gave a remarkable customer testimonial about how HubSpot helped to manage and gather analytics for them and the impact the software made on their metrics.
3. Show Tangible Results
Encourage customers/clients to share how your product or service impacted their business using specific numbers such as conversions, engagement, or total sale rates. Prospects will trust you more by learning that using your product was a valuable and tangible investment for other companies.
Take a look at one of the video testimonial examples of Slack. It shows how Spotify's advertising team improved campaign delivery to 99% and productivity by 40% with Slack.
4. Highlight Authenticity
Authenticity is an essential aspect of a testimonial video production to ensure trust. Plus, consumers are smart – they can see through paid and scripted recommendations.
So, it's a must for brands to create video testimonials that feel sincere and honest and come straight from the heart. Let customers speak in their own way and manner – instead of placing words in their mouths, let the narrative flow freely.
Take, for instance, the origin story of Supermaker on Vimeo, featuring founders Jaime Schmidt and Chris Cantino, who rely on Vimeo to build the ultimate online resource for growing businesses. Their narration and responses to questions feel completely natural and authentic.
Including multiple customers also adds an extra layer of credibility and authenticity. See how Monday.com does it perfectly.
5. Incorporate Graphics and Text
Adding visual elements such as graphics, animations, and vector icons is a great way to keep the audience hooked to the testimonial videos. These elements keep viewers engaged and are a great way to share statistics and facts or highlight points you wish to emphasize. For instance, check out another testimonial video of ForeseeHome that features Eric talking about how the company's AMD monitoring program offers peace of mind. While the narrative is clear, adding animated charts and graphs adds another layer of context to the video.
Questions to Ask for a High-Quality Customer Testimonial
When collecting testimonials, knowing the right questions to ask will help you show your company's value, inspire trust, and build a positive brand presence. Here are a few specific questions that you can ask to create a high-quality testimonial:
What was it like before you used our products/services?

From where did you hear about us?

What made you choose us over others in the market?

What outcome were you hoping for when you purchased our product or partnered with our business?

Have you achieved the results you were hoping for from our solutions?

Have we exceeded your expectations in any way or manner?

What is something that surprised you about our offering?

What would you say are the beneficial features of our product/service? How has it made your life easier?

Would you recommend our products/services to others?
Wrapping Up
Video testimonial is a powerful marketing asset for a business to build trust and establish credibility. Seeing a real person speak about working with your company adds a layer of credibility that's difficult to secure by other means.
Traditional marketing practices are already losing appeal, and consumers have become skeptical of paid advertisements. Video testimonials have emerged as the secret sauce for marketing to win customer trust and build relationships in this era of transparency and authenticity.
As you venture into the world of video testimonials, Fliki is here to lend a helping hand. It is the ultimate video creation toolkit with actionable features to craft impactful pieces that leave lasting impressions. Go ahead and explore today!