Introduction
Do you know that almost 58% of marketers using artificial intelligence (AI) for content creation have witnessed better business performance?
Whether improving engagement or ideation, AI has transformed how the world creates content today. The plethora of AI platforms makes it easy to create top-notch content to reach target audiences conveniently.
However, not everyone can handle these platform costs.
Enter free AI tools – the perfect solution for content creators. Whether you're an independent creator or work for a firm, free tools can save money and time. These tools let you handle video creation, copywriting, image generation, productivity, and more!
Use tools like Fliki to create videos faster or Rytr to generate compelling copy in minutes. Let's dive into the world of the best free AI tools to level up your content creation.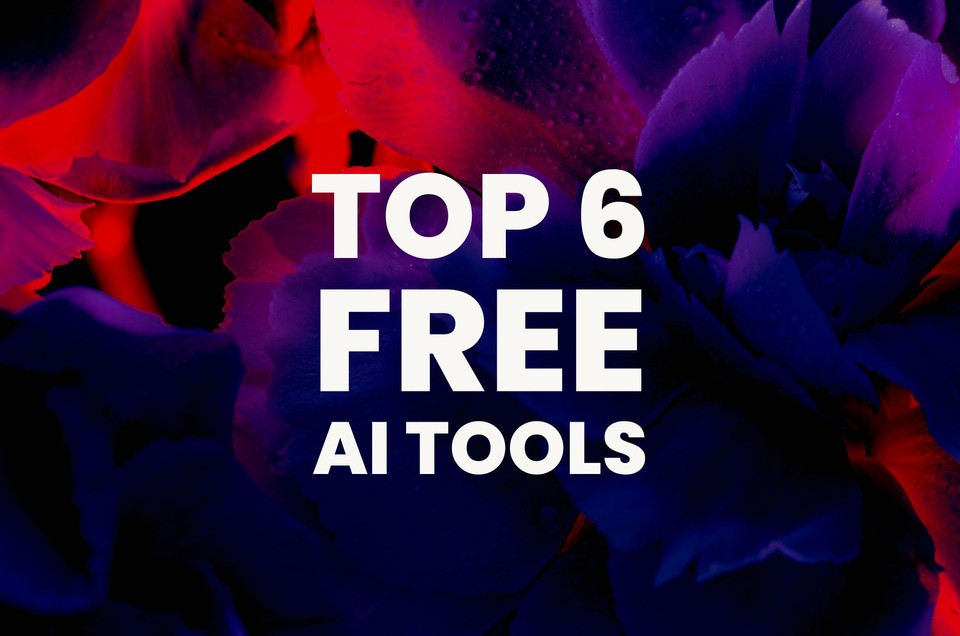 What is AI and How is it Changing the World?
Artificial Intelligence is the science of programming computer systems to mimic human-like decision-making and problem-solving. These programs help machines process, analyze, and interpret data to make decisions without external assistance.
It applies to multiple disciplines, such as computer science, engineering, analytics, neuroscience, and hardware.
There are various technologies and subcategories of AI, including machine learning, computer vision, and deep learning. The primary objective of these fields is to equip systems to evaluate data patterns and derive insights.
Earlier, AI was restricted to medical research and computer science fields. But, as the times have changed, AI-based software is now utilized in diverse domains. That's why 83% of companies feel AI will be among their key business strategies in the coming years.
Look at the fantastic applications of AI and how they're transforming the world.
Content development – Creating engaging audio, video, and textual content is seamless, with AI tools on the side. Platforms like ChatGPT can generate video scripts, articles, and even program code in minutes!

Education – Teachers can utilize artificial intelligence to create tailored academic plans for helping students. The tools can help check academic papers through grammar correction, plagiarism detection, and identifying patterns in mistakes. So, guiding students will be easier and more effective.

Healthcare - AI assists doctors in diagnosing, analyzing symptoms, and developing possible treatment methods. They can predict the treatment's effectiveness by analyzing patient record data. AI also boosts drug development, medical research, and patient monitoring.
What are AI Tools?
Artificial intelligence tools are software applications that utilize AI-based algorithms to perform functions. These can comprise free AI tools online or paid ones. The tools are applicable for commercial and personal use, as they are primarily user-friendly.
The AI software and tools can use machine learning or deep learning to execute executive instructions provided by the user. For instance, Rytr helps content creators develop engaging scripts for their audiences. The tool supports over 30 languages, 20 writing tones, and a plagiarism checker.
Similarly, Fliki lets users create voiceovers for videos from text instructions.
Many AI tools exist online for video creation, social media management, productivity improvement, and business automation.
Benefits of Using AI Tools
The primary advantage of utilizing AI tools is time and resources. When you can generate videos from simple textual instructions, it saves you hours of work.
You no longer require a team of copywriters, video editors, and designers to craft compelling content. AI tools can do them for you.
It's essential to know the instructions and mechanisms of these platforms. Plus, free tools help you save a lot of money, which you can invest in other areas such as product development.
Other benefits include –
Customer data analysis and making market predictions

Automatic repetitive tasks to free more resources for essential activities

Reducing errors in content creation

Improve business processes and streamline communication

These tools are always available 24x7

You can easily access them using a browser or a mobile application
Top Free AI Tools for Content Creators
Now that we understand the basics of artificial intelligence and the associated tools, let's get to the main point – free AI tools. Today, AI tools offer so much for free you may not need their paid subscriptions.
If you need more features, these tools also have affordable plans.
This section explores the best free AI tools for different categories like video creation, copywriting, marketing, and productivity. Let's get started!
1. Fliki – Create Engaging Videos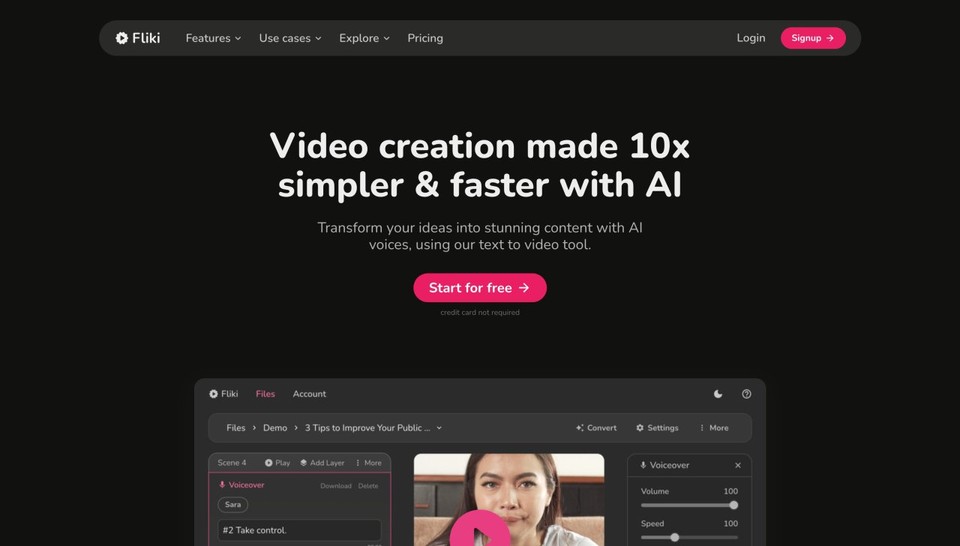 The first AI tool to begin our list is Fliki, which can help you create captivating videos from simple textual instructions. The tool allows you to create stunning videos in minutes to share on multiple social platforms.
Almost 54% of customers want creators or brands to offer quality videos. So, this tool will help you reach more customers and utilize the trend.
Head to the platform to start creating videos from text and enter your video idea. If you already have a script ready, input it. Or, enter some ideas or instructions about your intended video. Fliki will automatically start selecting relevant media for the script or instructions.
You can choose from the available AI voices in different languages for the background voice. That's not all! The platform offers voice cloning functionality to create a voice resembling yours. Feel free to use your audio files and images to personalize the video.
So, you can get started with their Free plan. There's a Standard plan for $28 and a Premium plan for $88 monthly.
Pros
Helps convert blog articles, PPTs, and tweets to engaging videos

Seamless interface suitable for creators of any experience

Provides AI voiceovers that sound closest to actual humans
Cons
Some advanced options, like voice cloning, are available on the paid plan

Free plan videos come with a watermark
2. Copy.ai – Write Compelling Copy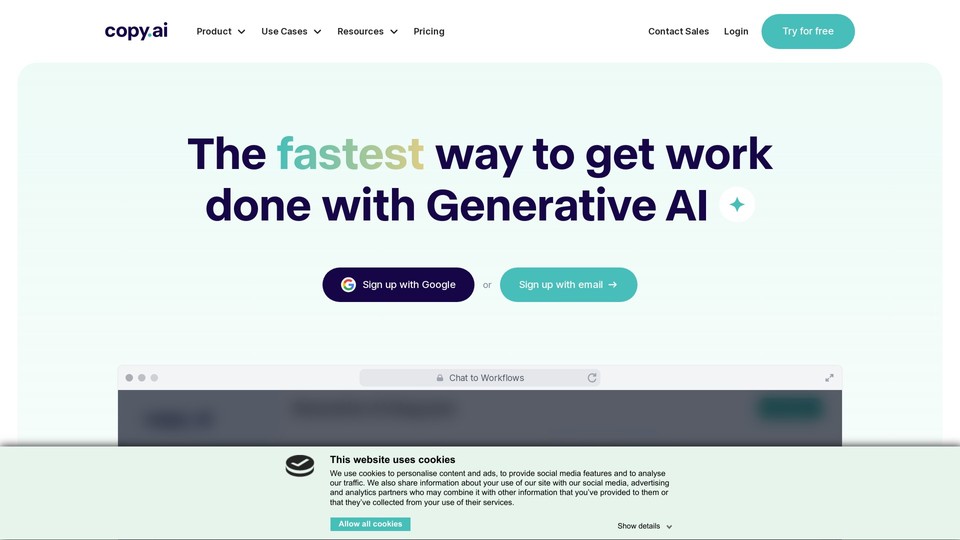 Without quality copy, a site's engagement declines by almost 58%.
So, if you have amazing ideas but cannot write effective text content, Copy.ai is the tool for you. It is considered one of the best free AI writing tools suitable for beginners and seasoned copywriters.
Be it blog posts, long-form articles, social media content, or ad copies – this tool can handle them all. Copy.ai can generate almost any content based on the instructions you provide. The platform's underlying technology is the powerful OpenAI's GPT-3 large language model, so you'll receive quality content!
You have to create an account on the platform to get going. After that, enter the instructions or prompts that define your intended copy. For instance, the prompt can be "Write an article of 500 words on future AI trends." You can get amazing ideas from the resultant content.
Modify instructions, give clearer prompts, and experiment with the tool until you get your desired draft. Moreover, if you wish to save vital data for later use, use the Infobase functionality.
You can start with the free plan and move on to the Pro plan at 36$ per month. Plans go up to $3,000/month.
Pros
User-friendly interface and quick

Efficiently creates branded content for better promotion

It offers maximum data security and is trusted by over 10 million users
Cons
Basic paid plans might seem costly for some users

Tonality options can be improved

Long-form copy creation is a little tricky
3. Semrush – Boost Search Engine Rankings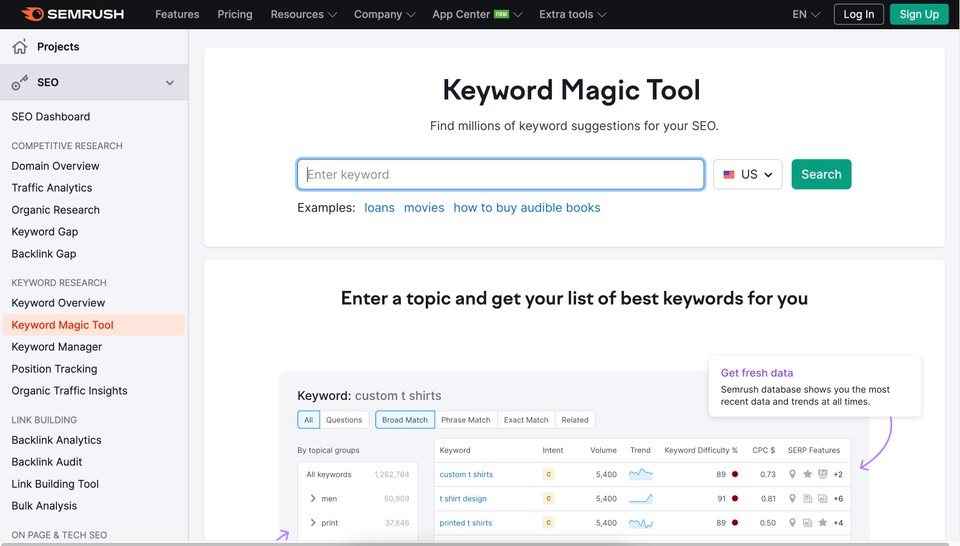 Your content needs better visibility and Google rankings to stand out from competitors. That's why you must check out Semrush, one of the top free AI SEO tools. The tool will allow you to get started if you don't have an SEO expert or team.
You can begin with on-page SEO and primary keyword research. So, visit the official website and create an account. Enter your content's main topic or primary terms in the Keyword Magic Tool.
You'll get a list of suggested keywords sorted by intent, volume, keyword density, and other metrics.
Also, check out the Keyword Manager to find cluster keywords based on your primary keyword. Also, Semrush offers competitor keyword analysis, local SEO, keyword tracking, and link building.
Pros
Huge database of over 21 billion keywords

Keyword tracking and powerful linking functionalities

Offers more than 76 AI-based SEO tools
Cons
The Premium Pro plan is expensive, starting at $129.95 a month

Only covers Google, not Bing or other search engines
4. Playground AI – Effortless Image Creation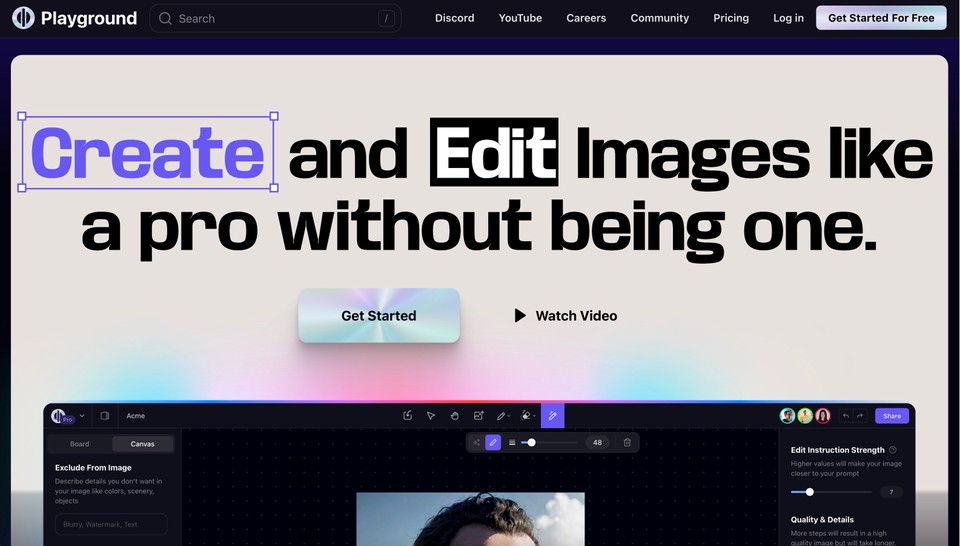 Next, we have Playground AI, a free AI tool for creating stunning images without being a pro. The tool lets you generate outstanding images from text instructions or prompts. For image editing beginners, the platform is ideal to let their imaginations go wild!
Playground AI can easily handle everything, be it a brand logo, cover art, or landing page design. Just head to their website and create an account. Then, you'll be prompted to create a new Canvas file, which will be your workspace.
You can begin creating beautiful images from text instructions by entering them in the text box provided. The site offers simple editing tools like image dimensions, filters, styles, prompt guidance, and mixed image editing.
Pros
Simple image customization options for beginners

Edit images through prompts and instructions

A vast library of AI-generated images for access
Cons
Limited integration with other design tools

Image generation may be inefficient with slow internet connections

Not enough customization options for seasoned designers
5. Looka – Design Logos like a Pro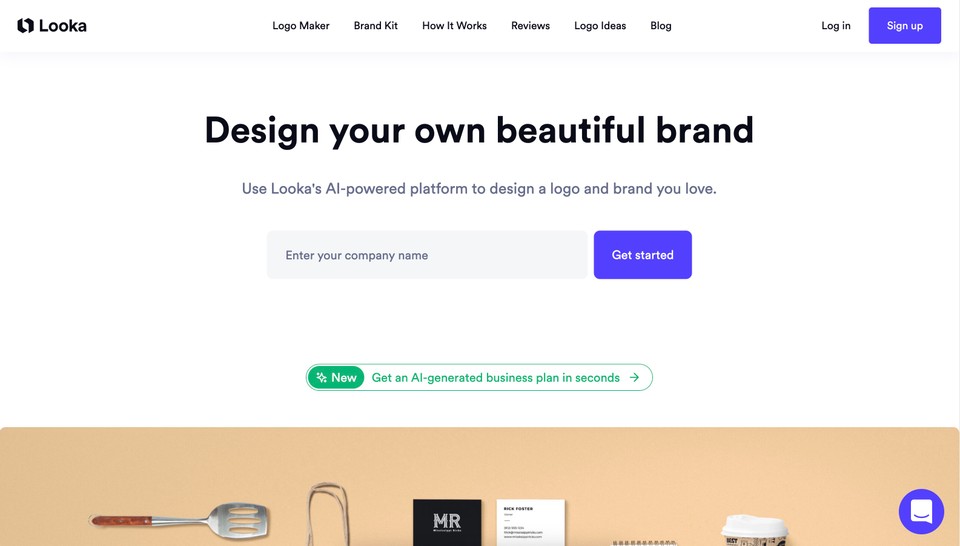 Need a logo for your new social media page on LinkedIn or Instagram? Looka will enable you to create stunning logo designs without being an expert.
You start by entering your company name, industry, preferred logo color, and slogan. Then, you need to select a few logos from the existing library to give Looka a better idea of what you're looking for. Within a few minutes, the tool produces multiple logos for you to customize.
Then, you can customize the layout, color, container, slogan, and background design to your heart's content. The best part? The platform offers a Brand Kit, including mockups of web designs, email signatures, business cards, and social media templates.
Further, the Basic Logo plan starts at $20 annually, and the Brand Kit Web Subscription is $129 annually.
Pros
Excellent customization facilities for designing

Considers brand characteristics while logo creation

Does not require any previous design experience
Cons
Brand Kit available for paid subscriptions

May generate generic logos

Might not suit experienced design professionals
6. Framer – Build a Top-Notch Website to Attract Audiences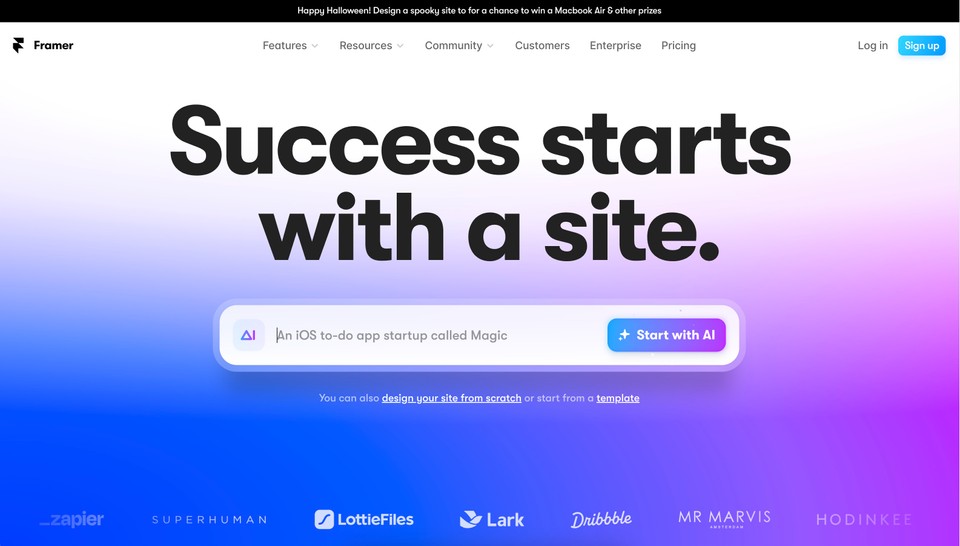 The average conversion rate of landing pages is 9.7%. So, as a content creator, you need a website to attract your audience. This will be essential when you sell products or services.
A free website builder called Framer is the perfect tool! You need to create an account and offer the context of your desired website using text instructions. AI analyzes the instructions to create a website with the appropriate color schemes and layout.
You can use the canvas feature to add animations, media, and a content management system to the site. The drag-and-drop features let you modify any website section immediately. Adding plug-ins like YouTube, Google Maps, or Twitter is also simple.
In addition, you can modify the website's functionalities and appearance to attract visitors. The free plan offers a design editor and Framer banner for website publishing. Paid plans start at $25 per month (annual billing).
Pros
Responsive website creation with a seamless interface

SEO support and easy plug-in integrations

Ideal for users of varied skill levels
Cons
No e-commerce features for online businesses

The platform doesn't offer a custom domain

Limited features in the free plan
The Bottom Line
So, that's a wrap for the top free AI tools for content creation! However, this list is not exhaustive.
You now have an idea of free AI copywriting tools and tools for video creation and image generation. Experiment with the tools to master them and improve content creation efforts. Track results to see the impact of the tools on engagement and conversions.
More than 42% of business professionals use AI for personalized content creation. So, the market demand will introduce more new tools. Always select the tools according to your business objectives, target audience, budget, and team size.
While delving into these amazing tools, don't forget to keep generating high-quality content!
CTA: Sign up at Fliki to create professional-level videos and audio in minutes!
FAQs
Are these AI tools free forever?
These AI tools are free for limited features according to their basic plan. The paid plans have more extensive functionalities for complex brand requirements.
Are AI tools suitable for users with no technical expertise?
Yes, almost all AI tools are suitable for users without any technical knowledge. They can use the tools for content writing or video creation independently.
Can AI writing be detected?
Yes, free AI software like Copyleaks can detect if the content is written purely by AI. So, take inspiration from AI content, but don't blindly copy-paste it.
How will the tools boost a content creator's online presence?
Content creators can boost their presence by quickly creating videos, articles, or designs to attract the audience. They can also use free AI tools for affiliate marketing to fetch more customers for their brand, which can elevate their presence.
What should I keep in mind while using AI writing tools for free?
Verify the information generated while using AI writing tools or any other tools. The copy, video, or image details might not always be accurate. Incorrect information in your content can hamper engagement, so be careful.