According to Statista, in a 2022 internet minute, 500 hours of video were uploaded to YouTube, 1,700,000 pieces of content were shared on Facebook, and 66,000 photos were shared on Instagram.
And this separate report states that users in the U.S. spent approximately 22 hours/month on the YouTube mobile app. 🤯
Clearly, there's a high demand for all types of content. But it's not always possible to churn out content from scratch.
Luckily, there are several stock media sites that you can use to find free images, videos, as well as music.
In this article, we'll cover the 13 best free stock media sites that'll make YouTube content creation super easy. 😎
Let's get started!
1. Pexels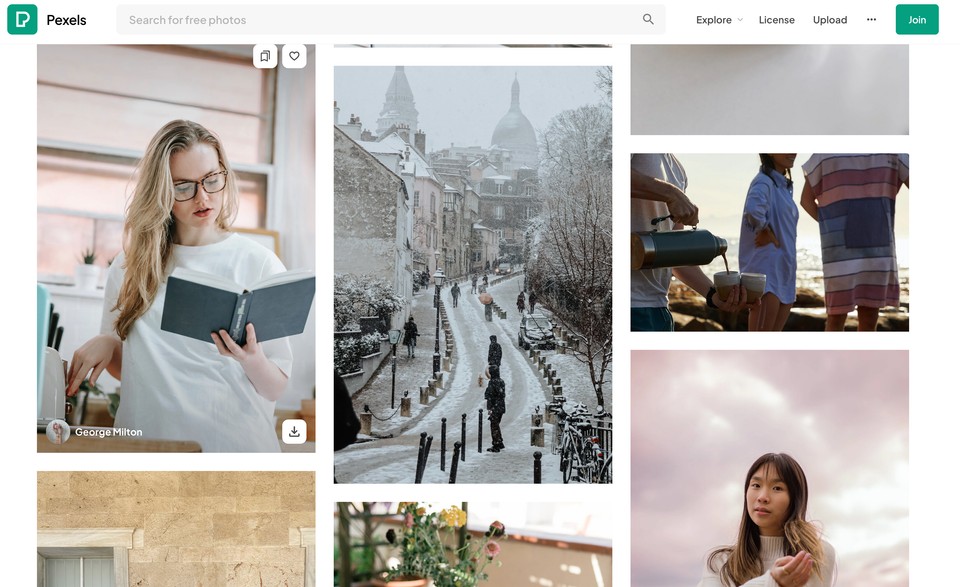 Pexels offers high-quality and completely free stock photos and videos that are licensed under the Pexels license. All media on this site are tagged, which makes them searchable and also easy to discover.
Type in a keyword or explore popular search topics like Rain, Food, or Christmas.
It's never too early to start working on that Christmas-themed video, right?🎄
Pexels also features a Leaderboard consisting of users with the most views on their uploaded media in the past 30 days.
Pexels is best for
Creators looking for an extensive library of photos.
Pexels pricing
All photos and videos are free to use.
2. Pixabay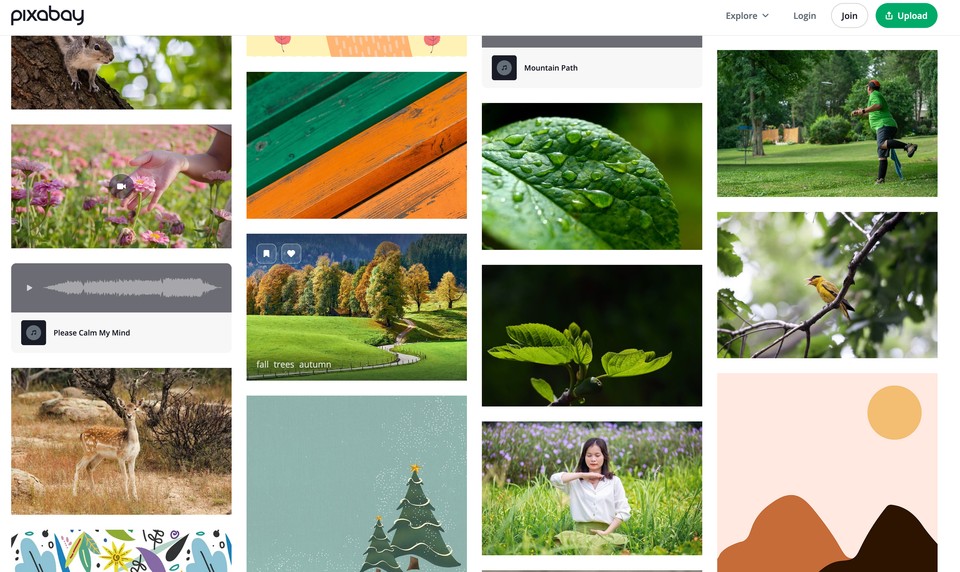 Pixabay is home to 2.7+ million high-quality stock photos, videos, and music that are free to use anywhere.
All media on this site are released under the Pixabay License, making them safe to use without giving credits or asking for permission from the artist. You even have the liberty to use it for commercial purposes.
Isn't that amazing? nods vigorously
But that's not all! This website also offers illustrations, gifs, vectors, and sound effects.
All you need to do is type in the search query, apply a filter from the drop-down (images, videos, and more), and hit enter. And in case you don't have a particular category in mind, you can simply filter by Editor's Choice, Latest, or Trending.
Pixabay is best for
People looking for nature or cityscape media.
Pixabay Pricing
All media on this website are free to use.
3. Videvo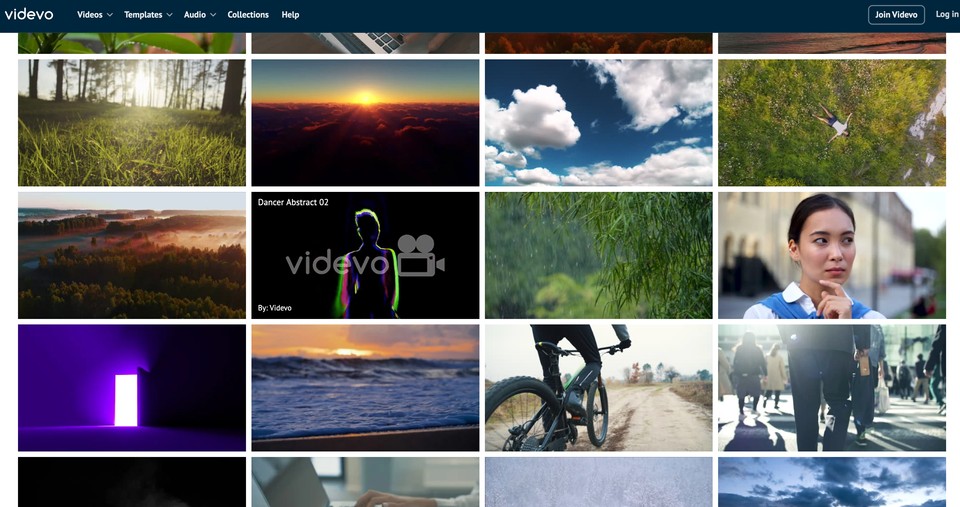 Videvo offers thousands of free stock videos (footage and motion graphics) as well as audio (music and sound effects).
This includes 30-second clips with no watermarks where attribution is required, as well as 10-second clips with watermarks but no required attribution.
All media in the Videvo library fall under the following licenses:
Videvo Standard License: Use the clips without attribution but avoid redistributing the footage.

Videvo Attribution License: Credit the clip's creator in your work.

Creative Commons 3.0: Can share and edit the clip, but you need to credit the creator and highlight the changes.
Browse through 30+ video categories and 35+ music genres and moods today to create your next YouTube video. 😬
Videvo is best for
Background, green screen, and VFX-related media.
Videvo pricing
Videvo offers 50,000+ free stock media, including video clips, animated backgrounds, and more.
It also supports three premium plans. The plans start at $7.99/month for five premium downloads.
4. Mixkit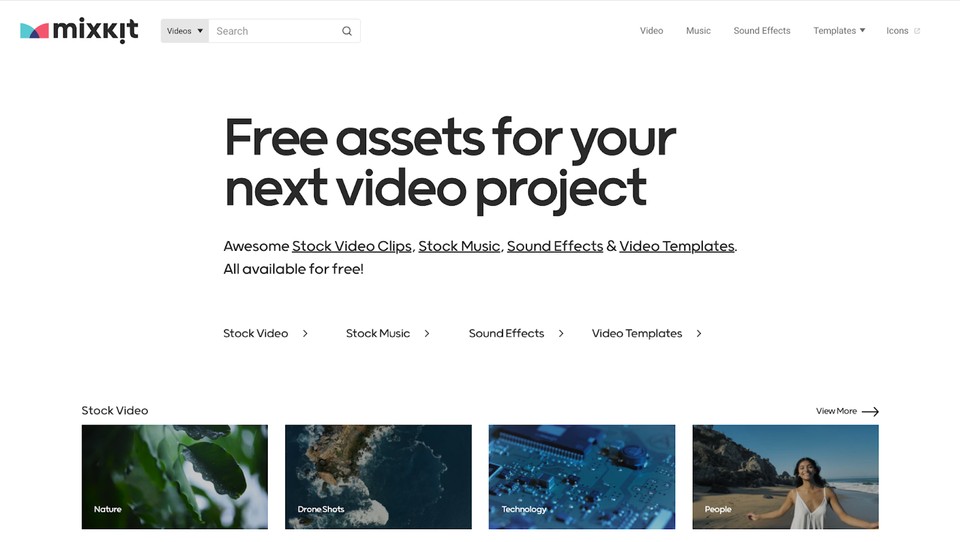 Mixkit provides a free gallery of stock videos, music, sound effects, and video templates.
Here's a quick view of their categories:
Stock Video: Filter by categories by Drone shots, Nature, Animals, and Abstract. Narrow it down further with sub-categories. For instance, Nature has sub-categories like Sky, Sea, Beach, Clouds, and more.

Stock Music: Search by Genres like Country and R&B, Moods such as Happy and Upbeat, or Tags like EDM and Gym. 🏋🏾

Sound Effects: Use sound effects like Notifications (Alarm, Beep, Phone Ring), Human (Applause, Voices), Transition (Swish, Glitch), and more.
And the best part?
It also offers various templates, including templates for YouTube branding, end screen, in-video subscribe button, and more.
Mixkit is best for
Stock media related to nature, animals, and backgrounds.
Mixkit pricing
All media are free to use.
5. Coverr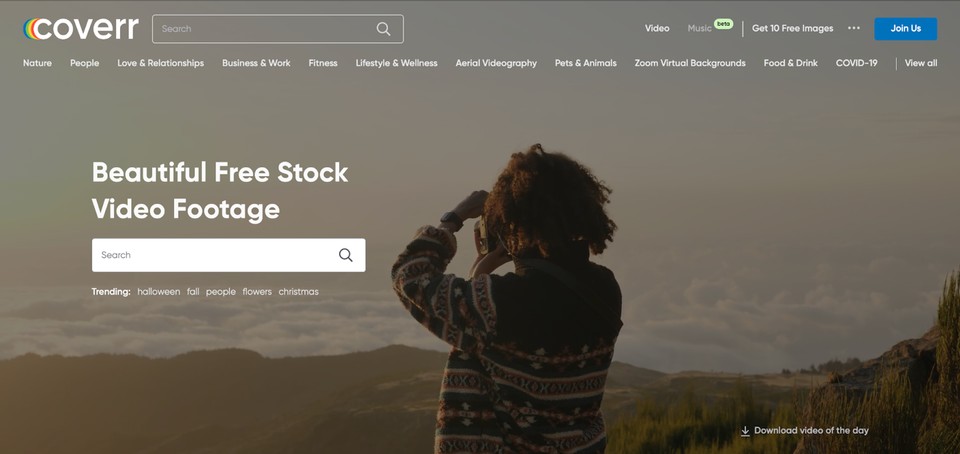 Coverr has an extensive catalog of thousands of free stock videos that have been viewed 1.1 million times and downloaded more than 5 million times each month. You can use these media anywhere.
This free stock footage website offers 25+ video categories that can be sorted by Popular and Latest.
So how do you use it?
Simply, click the download symbol on the video and choose the quality you want. Or you can even embed it directly on your webpage. You don't need to signup or mention credits.
What could be easier than this, right?
Coverr is best for
YouTubers interested in aerial, travel, and technology-related shots.
Coverr pricing
All videos are free to use.
6. MotionElements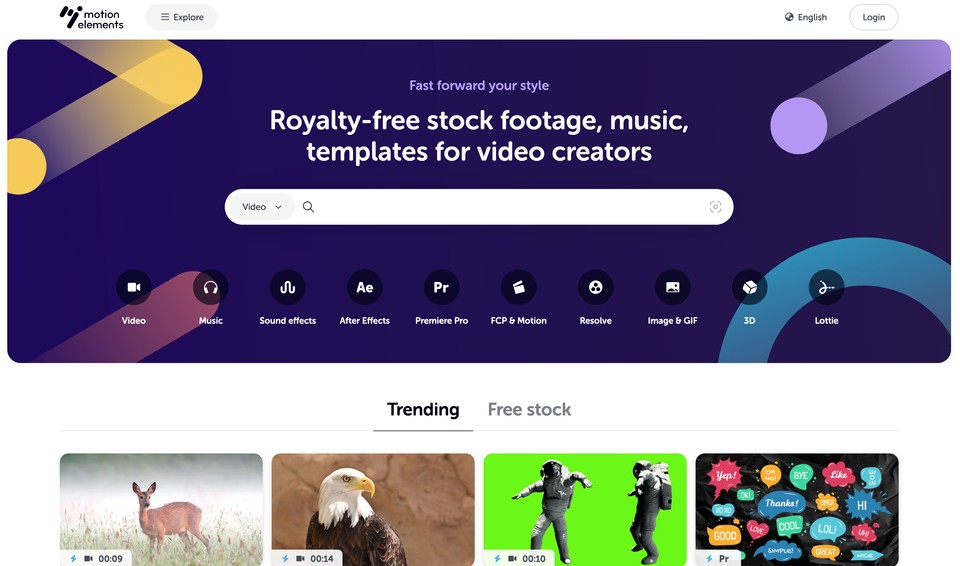 Whether it's video, music, images, gifs, or sound effects, MotionElements has a catalog of over 7 million stock media. 😳
Sort of like a one-stop solution for catering to the needs of video creators!
Dive into the "Free stock" category to find 4000+ HD videos available to download for free. You can download up to five pieces of footage every week.
Or, select a category and type in the search bar to find all related videos. Use the sidebar to filter the results by resolution, color, and price.
MotionElements is best for
YouTube channels related to education, beauty, wellness, and business.
MotionElements pricing
MontionElements has over 4000 free stock content that can be used with an editorial license.
It also offers three premium plans. You can buy media only when needed, pay through pre-loaded credit, or subscribe for $16.50/month.
7. Videezy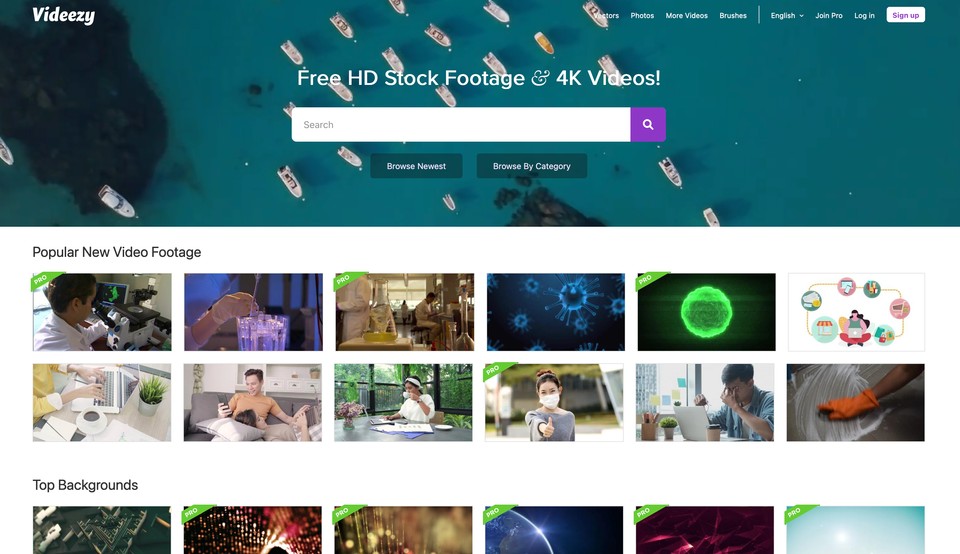 Videezy is one of the largest stock media communities in the world. It boasts a library of thousands of HD and 4K videos.
Use Videezy media for personal as well as commercial use and provide attribution based on the license type. Most footages are royalty-free for both personal and commercial use but don't forget to check each licensing info before using.
You might be thinking… wouldn't that mean a lot of work? 🥲
Luckily, you can easily filter the search results using the handy toolbar on the left-hand side of the page – filter by license type, resolution, and format.
Videezy is best for
Backgrounds and after-effects templates.
Videezy pricing
Videezy has three paid plans. The premium plans start at $19/credit.
8. Dissolve

Dissolve is a hub of over 3.6 million high-quality stock photos and video clips. Each footage is described in a few words and also suggests more clips from the same shoot. You can also browse further based on keywords.
It consists of two platforms:
Dissolve Premium: A hand-picked library of the best videos and images related to relevant themes like technology, architecture, and business.
Need help with research?
This premium platform also provides an on-demand curated folder of clips or photos based on your requirements, like specific shots, aesthetics, or themes.
Dissolve Creators: A free media stock consisting of uploads from creators in the Dissolve CreatorsTM community. Search through thousands of files or pick from 'Most Popular' or 'Most Recent' uploads.
Dissolve is best for
Dissolve works with companies like Discovery, Netflix, and Deloitte. So, professionals can find some exclusive footage here.
Dissolve pricing
Dissolve has based its pricing on per clip or photo basis. Video clips start from $29, and images start from $5.
9. Dareful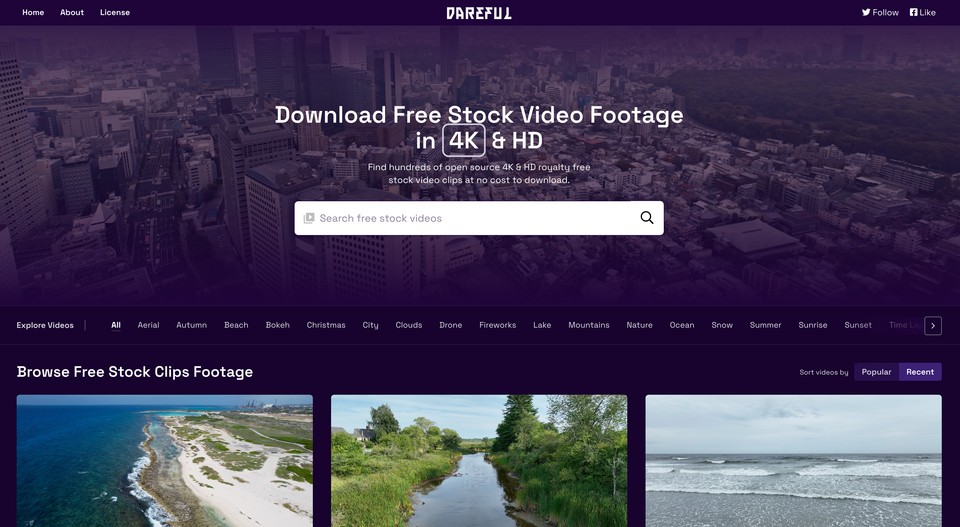 Dareful, previously known as Stock Footage 4 Free, is a small library of video footage curated and shot by Joel Holland, creator of VideoBlocks.
Though the number is small, all clips on this stock media site are royalty-free and in HD and 4K quality.
It's the quality that counts, not the quantity! ✨
Dareful clips are licensed under CC4.0 (Creative Commons 4.0). This means you're free to share as long as you give appropriate credit and indicate changes.
What kind of footage can you find?
Browse all clips at once or filter by categories such as mountains, sunrise, time-lapse, bokeh, and more.
Dareful is best for
YouTubers who need aerial, travel, and nature-related footage.
Dareful pricing
All video clips are free to download.
10. SplitShire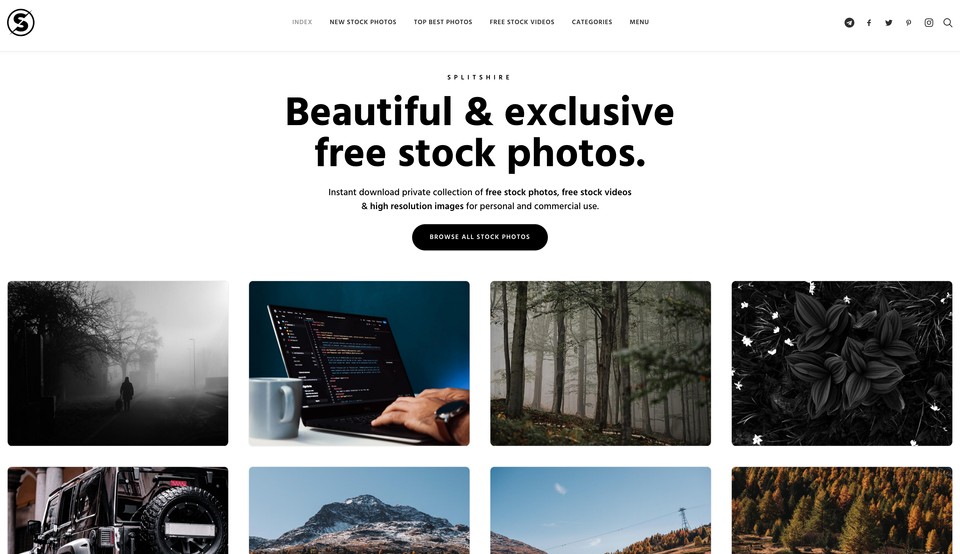 Primarily a stock image website, SplitShire, is a private collection of tons of stunning images. It also features a small stack of videos.
Daniel Nanescu, the man behind the lens, describes it as a side project to share the photographs, which were otherwise in his hard drive gathering dust.
These stock images and videos don't carry any copyright restrictions or attribution requirements.
Apart from YouTube videos, you can use these photos:
In your blogs and websites.

To print on t-shirts and canvases.

On book covers and music artworks.

In software applications and other personal and commercial projects.
Splitshire is best for
Creators who are interested in aerial, drone, or outdoor clips.
Splitshire pricing
All photographs and videos are free to use.
11. Pond5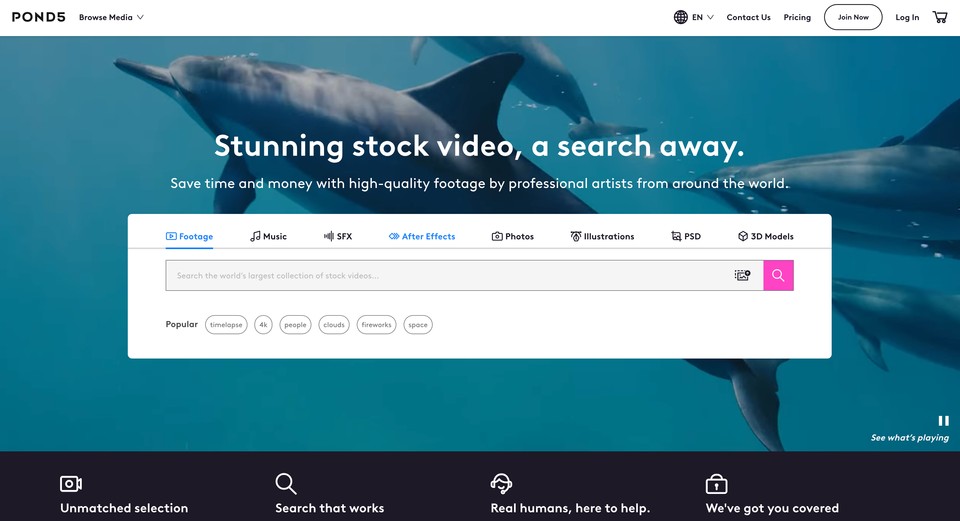 Pond5 is a royalty-free media site with an extensive library of over 33 million videos.
Whether you're looking for footage, music, after-effects, illustrations, 3D models, or sound effects, Pond5 has you covered!
Did we mention that you can upload a file to search for similar footage?
Woah!
Here's how you can do that:
Click on the upload image icon in the search bar.

Choose to match the composition or color.

Drag and drop your file or upload it manually.
That's it! You have your results. 🥳
Pond5 is best for
Slow-motion videos, silhouettes, and product mockups.
Pond5 pricing
Pond5 has two pricing structures: pay per item and subscription. Premium plans start at $199/month for videos and $25/month for music tracks.
12. Vidsplay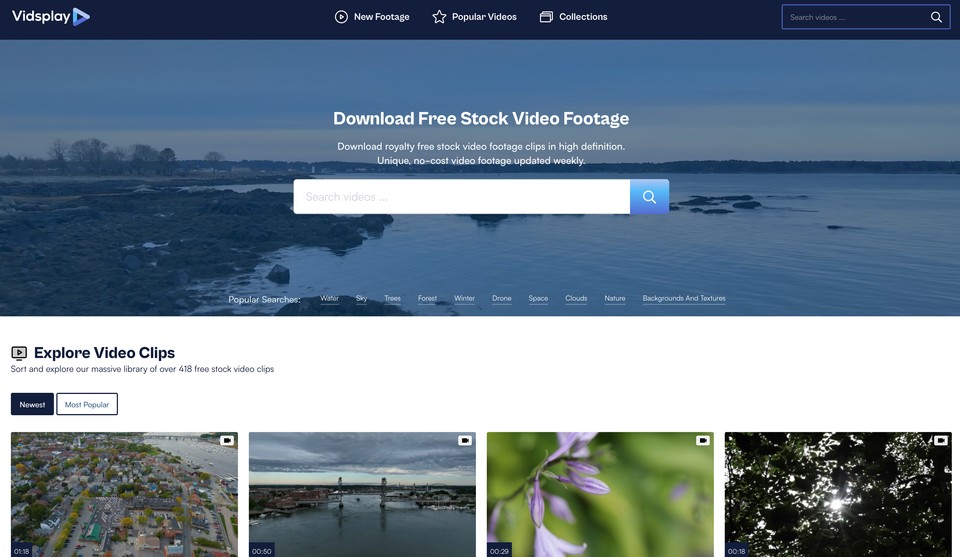 Vidsplay consists of over 400 high-definition and royalty-free stock videos. Plus, new and unique videos are added every week to the library.
You're free to use these clips for personal as well as commercial productions.
Each video comes with a detailed description of its attributes like duration, resolution, format, and frame rate.
Additionally, Vidsplay has some interesting collections of videos like society, production elements, transportation and traffic, and space. 🚀🪐
Vidsplay is best for
People looking for general footage. You can even find lots of background and texture-based clips.
Vidsplay pricing
All videos are free to use.
P.S. don't forget to add a clear credit link to Vidsplay.com either in the end credits or the description of your YouTube video.
13. Storyblocks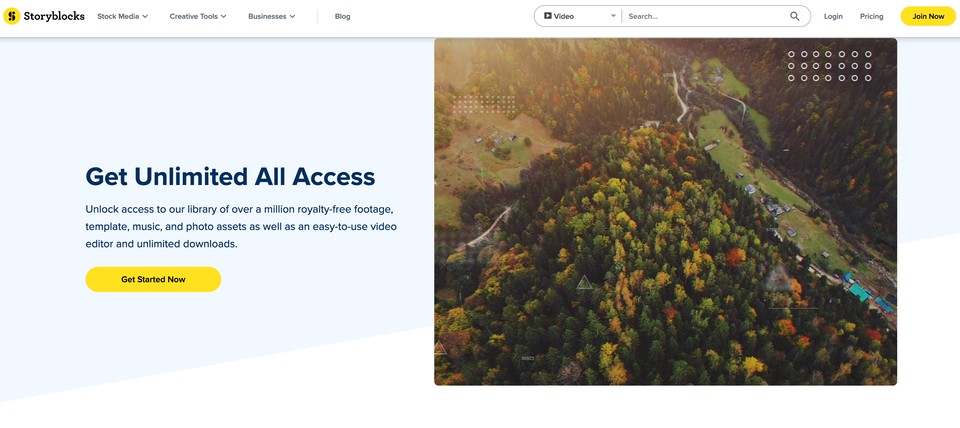 With over a million royalty-free assets, Storyblocks provides a library of footage, music, template, photo, and more. It also features an in-built video editor called Maker.
With this editor, you can:
Add clips from the Storyblocks library.

Import your own media.

Customize transitions, fonts, and overlays according to your branding.

Download or directly export to other social media platforms.
Additionally, this stock media site also includes a plugin for Adobe Premiere Pro – allowing users to search, download, and create videos from their editing tools.
Storyblocks is best for
Creators and businesses looking for an all-in-one solution.
Storyblocks pricing
Storyblocks offers three pricing plans. The plans start at $15/month when billed annually, and you can download up to five HD footage, music, photos, vectors, and illustrations.
Sure, all these stock media websites are great at what they do.
But what if there's a tool that offers a library of free stock media along with a video editor and a lot more?
The answer is Fliki! 🎉
Create Effortless YouTube Videos With Fliki
Fliki is a powerful text-to-speech and text-to-video app that helps you create audio and video content using AI voices.
It also provides a built-in library of over 6 million royalty-free images and video clips to effortlessly create videos.
To get started, sign in to your account or create a new one if you haven't already.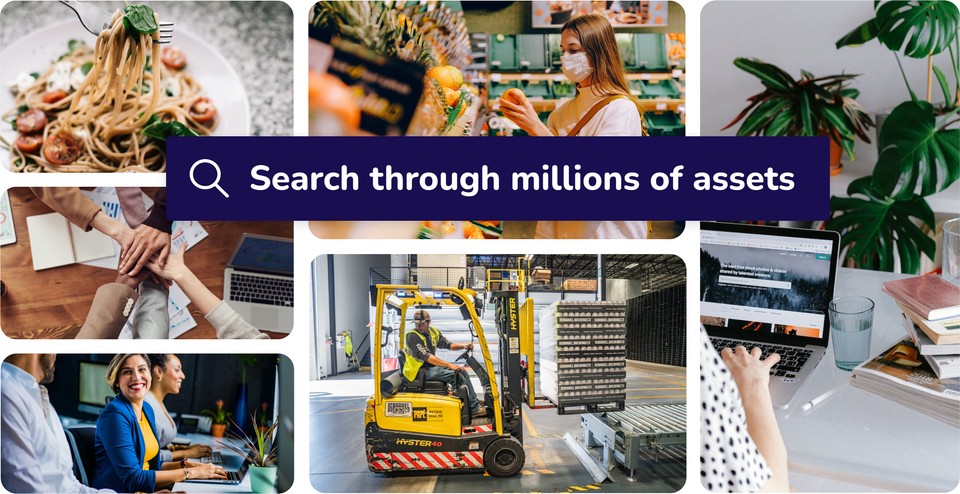 Here's how you can add an image or video clip to your YouTube video:
In your dashboard, click on "New File" or pick an ongoing project.

Click on the image icon beside any segment to open our image/video gallery.

Now, under the Stock library tab, type in the search bar to look for specific media.

Select the image or video clip you want to add to your segment.
Looking for a specific image?
Don't worry! Fliki's got that covered too.
Hit the AI Art tab, type your query and find your desired image in a jiffy!
queue cheery music 🎶
That reminds us…
With this powerful AI app, you can even add background music to your videos.
Choose from over 10,000 copyright-free background music:
Navigate to More > Background music > Choose music file.

In the search bar, enter the type of music you're looking for.
(Quick tip: Press the sound icon for a quick preview.)
Select the music you want to add.

Adjust the volume level and click Save to process your changes.
Isn't that music to one's ears? (Pun intended.) 🙃
Additionally, Fliki supports:
Languages: Produce audio and videos in 77+ languages and 100+ dialects, including English, Spanish, and Japanese.

Voices: Choose from over 850 high-quality voices.

Voice controls: Control the voice speed and pitch and add pauses easily.

Voice styles: Choose emotions like cheerful, hopeful, sad, angry, and more.
Interested to know more? Explore other features here.
Start Streamlining Your YouTube Content Creation Today!
Cameras. Lighting. Location. A lot goes into a perfect video.
While you can always create your videos from scratch, it can be challenging to do so at times.
However, you can count on stock media sites to find the right image, video clip, or music for your YouTube videos.
And while these sites provide high-quality media, Fliki takes it a notch higher by providing an editor and an in-built stock library.
It also offers more than 850 life-like AI voices, 77+ languages, and much more.
Try Fliki for free today!