YouTube is the second-most visited website in the world (after Google) with an average visit duration of 21 minutes and 29 seconds.
Sounds like a tough task to earn money with this platform?
Sure, you'll need to start your channel, release a few videos every week, and promote them on social media.
But here's the payoff for all your effort:
You earn more views and see your channel grow!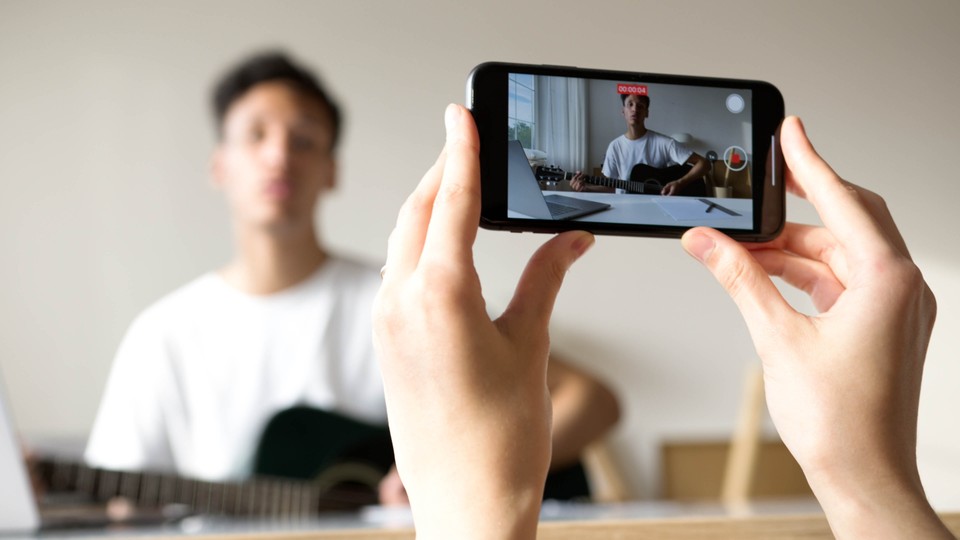 And more importantly, your channel gets monetized and you qualify for the YouTube partner program, affiliate marketing, and paid sponsorships.
While there's no one-size-fits-all approach, there are some best practices that can help you strengthen your YouTube strategy. In this blog, you'll learn how to start your YouTube channel the right way.
Let's dive in!
Choose a niche
This is the most obvious thing to do before starting a Youtube channel.
You can do two things:
First, select a niche that you like to watch. You're more likely to produce content of a higher quality on topics you're interested in!

Another way is to pick something that already has a large audience base or has a high CPM (cost per mille).
What's CPM?
It refers to how much advertisers pay per 1,000 views. So, if you earn 200,000 views and the CPM is $12, then the revenue generated is $2,400.
Awesome, right?
Here are some niches that can help you earn the big bucks:
Content creation: $2.91 - $9.73

Insurance: $15.63 - $49.52

Casino: $2.64 - $19.35

Cryptocurrency: $2.26-$11.94

VPN content: $2.73-$14.5

Auto repair: $3.0-$8.87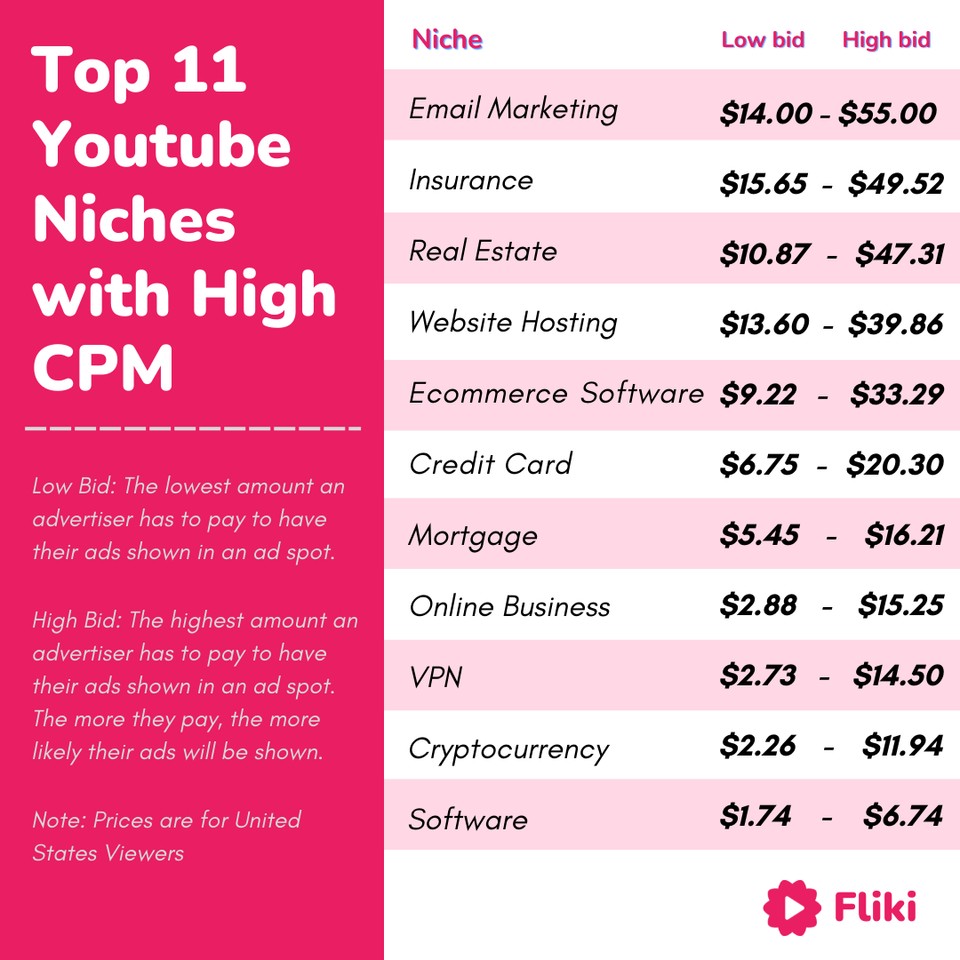 Do your research
Now that you have a topic in place, you need to do some in-depth research to measure its potential.
Let's check out a few points you can ponder upon:
Understand your target audience
Regardless of your expertise in the topic, you won't be able to grow your channel if you don't identify what people are looking for exactly.
You can check out online forums like Facebook or Reddit where niche enthusiasts congregate.
Time to take out those blue light glasses and your notepad!
In these forums look out for:
Types of posts they make.

How people are reacting to different posts.

What posts do they like/dislike.

Popular posts.

Jokes or references made.
...and a lot more!
Or, you can use professional tools like Answer The Public and Find My Audience to dig deeper and find out:
Significant audience groups in your niche.

Most asked questions.

Major audience interests and groups.
Additionally, these tools provide a list of popular channels in the selected niche that can help explore further your target audience.
Video type
You might be wondering, "Hey, does the video type really matter?"
The answer is: YES.
According to this GoogleTrends report, the interest in how-to videos went from 29 to 93 in the past five years. That's a whopping 220.69% increment.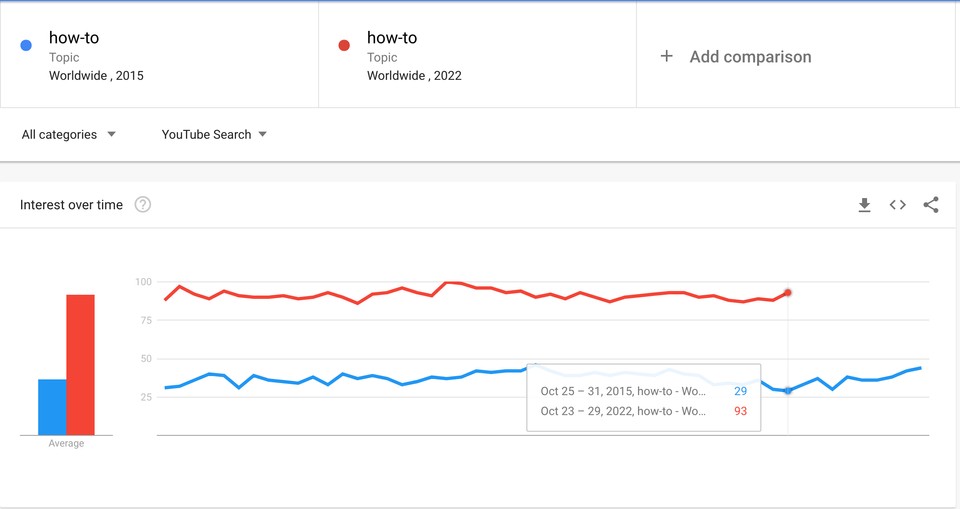 Some popular video types include:
Ask me anything (AMA)

Product reviews

Listicle Videos

Whiteboard videos

Entertainment and more
But our personal favorite is faceless videos. Check out the top 10 faceless YouTube channel ideas for 2023.
Monetization potential
Audible, Twitch, Amazon Associates, and Tripadvisor are some popular YouTube affiliate programs.
And according to Business Insider, by 2022 affiliate marketing content will generate an estimated amount of $8.2 billion in revenue in the U.S. Woah!
However, that's not the only way to make money with YouTube.
Monetized YouTube channels mostly make money through:
Advertising

Brand partnerships

Selling merchandise or digital goods
Learn more and explore more channels about making money with Youtube in 2023!
In fact, over the past three years, YouTube Parter Program has paid over $30 billion to artists, creators, and media companies.
So, whether you're planning on selling your product or joining the YouTube Partner Program, you need to understand the monetization potential of your selected niche.
Why?
A YouTube category with no advertisers or affiliate products indicates that the average user doesn't spend money on online products – ultimately affecting your prospects of selling your products or services in the future.
Plan ahead: Create your content strategy
You don't want to start your channel and then think about the specific videos to create. Nope!
The right way is to sketch a clear path that you can prompt your viewers to follow.
For example, you can try making your videos into content sets of maybe five or 10 videos. You can link your videos to similar ones and then recommend your other videos at the end of the first one.
This way, you get to tell your viewers to watch another one of your videos. And if they're interested enough, they'll end up binge-watching all your videos.
Voila! You earn more views.
So, how do you find related topics?
With tools like TubeBuddy, you'll be able to identify the best topics and keywords for your niche. This tool also offers actionable insights into your keyword like keyword score, search volume, optimization strength – to help you decide whether to target it or not.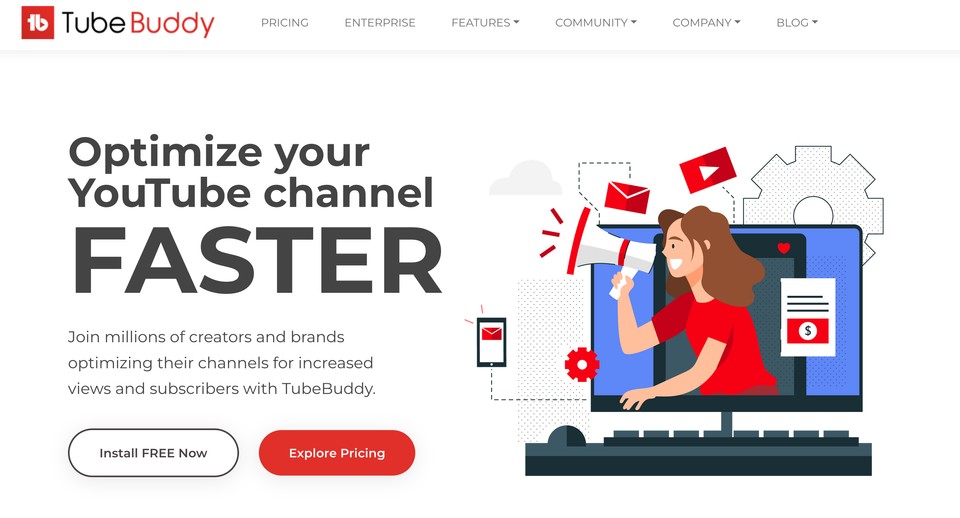 Now, as for some general tips, here's what you should keep in mind while creating your content strategy:
Set goals for your YouTube channel.

Upload frequently as the YouTube algorithm rewards consistency.

Repurpose and promote your video on other social media platforms.

Post when your audience is most active.
Identify and gather the equipment required
Once you have zeroed down on your topic and have a content strategy in place, it's time to gather all the equipment and tools you need.
Camera for recording videos
Your phone camera is probably the best and safest place to start.
Amp your video quality with these dedicated cameras:
- Webcam: If you have a gaming channel or you record videos in front of the computer.
- Camcorders: For filming a video at home or to create vlogs on the go.
- GoPro: To record fast-paced activities like cycling, skateboarding, skiing, and more.
Microphone for quality audio
Consider investing in a microphone if you're creating tutorial videos, podcasts, or recording music.
Check out these mics:
USB microphones for voiceovers, product demos, and commentaries.

A lapel mic to record interviews or workshop videos.

A shotgun microphone to capture fast-paced shots.
Lighting to enhance video quality
You can invest in lighting equipment if you're planning on recording indoors or in dimly lit areas to enhance your video quality.
Softbox, umbrella light, ring light, and on-camera light are some different types of lighting you can try.
Fliki to Create Videos
If technology is not your forte, chances are video editing might seem a bit daunting to you.
Club that with voiceovers, sound effects, pace, and tons of other things – it's a nightmare.
But with Fliki on your side, it's never been easier to create and edit videos using AI voices!
Fliki is a text-to-speech and text-to-video platform that helps you easily create audio and video content using AI voices.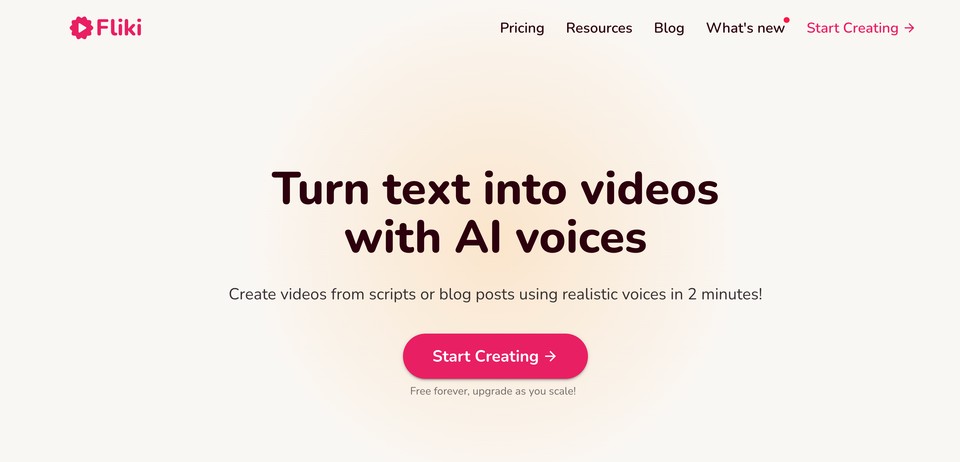 To create a video with Fliki:
Sign up for Fliki or sign in if you already have an account.

Create a new file or choose an existing one.

Enter your script and add images/videos.

Customize voice, dialect, tone, and more.
Key Features
Choose from over 850 high-quality voices.

Create audio and videos in 77+ languages and 100+ dialects including English, Spanish, and Japanese.

A large collection of royalty-free stock media library with millions of images, clips and music to choose from.

Control the voice speed, and pitch and add pauses easily.
Check out other features here
And while you're at it, read this detailed article on equipment for starting a YouTube channel in 2023
Set up your YouTube channel
Here's how you can create your YouTube channel:
Create a Gmail account if you don't have one.

Go to YouTube.com and Sign In to your account with your Google account credentials.

Click Settings at the top-right corner of your screen.

Next, navigate to your account overview and open the "Your YouTube channel" tab.

Select "Create a new channel".

Now, enter the name of your channel, and finally press "Create".
That's it!
Simple, right?
Once you've created your channel, you can start customizing it according to your liking.
You can:
Upload basic information like channel descriptions and links to the sites you want to share with your viewers.

Customize your channel URL.

Add branding elements like profile picture, banner image, and video watermark.

Edit layout to add video spotlight, channel trailer, and featured sections.

Create a channel trailer to highlight what makes your channel unique and why people should subscribe.
Prepare to upload your first video
The first step in appealing to your audience is using clear thumbnails and titles.
While grabbing a user's attention might sound significant, the main objective is to help the viewer identify that your content is something they might be interested in.
Similarly, the thumbnail and title combination should also compel users to click on them!
(Quick Tip: You might wanna do that for all your videos.)
Ready to upload your first video?
You can do this in two ways:
Live stream your video.

Upload a video file.
However, since you're just starting out it's better to upload it as a video file.
Let's find out how!
To upload a video file, go to YouTube Studio and select "Create". Then you can select "Upload Video" and pick your desired video from your computer.
Now you can proceed to add the title, thumbnail, and description for your video. You can also add it to a playlist and set your video's audience.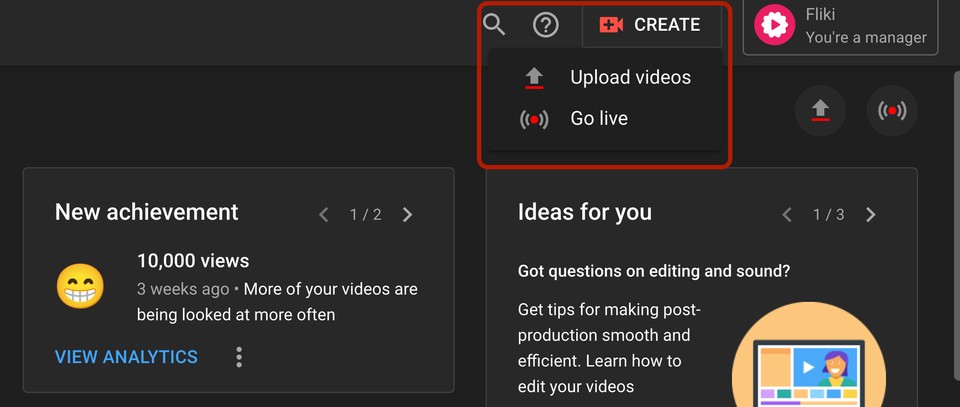 But remember, your video should be in compliance with YouTube's community guidelines and not contain any copyrighted material. This will help you to keep your account safe and to be eligible to join the YouTube Partner program.
Optimize your videos to gain traction
Without search engine optimization (SEO), it's highly unlikely that your video will land in YouTube search results.
Let's take a quick look at a few things you can optimize:
Video Description: Accurately describe the content of your video. You can also add chapters to help users navigate to specific sections.

Tags/Keywords: Add up to 500 characters of keywords and search phrases relevant to your video.

Subtitles: Upload subtitles with proper capitalization and punctuation.

Playlists: Group your videos into playlists.

Channel Art: Sort of a cover or background photo. You can design a channel art from scratch or use tools like Canva to create one.

Channel Description: Highlight what are the topics and themes that you talk about on your channel. You can also include a call to action.

Watermark Logo: Allow people to easily subscribe to your channel by simply pressing the watermark logo.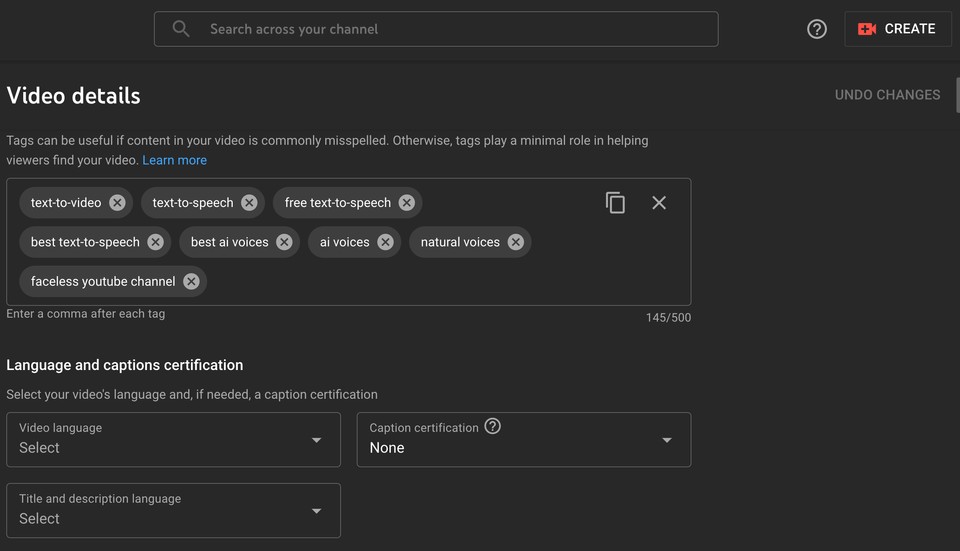 Promote your video on other social platforms
To ensure that all your i's are dotted and t's are crossed, start promoting your videos across all social media platforms and forums. Also, you may share it with your friends and family.
But remember, to adhere to the rules of the community and avoid spamming them.
Moreover, if you want to connect with specific groups you can join a Reddit community or share links in Facebook groups.
Wait… that's not all!
YouTube Shorts is another tool that you can use to promote your brand organically. Simply, upload up to a minute-long video and use relevant tags.
Use performance tools to analyze the results
Once you start earning views, you can take the help of a very handy tool called YouTube Analytics.
This tool gives insight into how people are responding to the content that you're
putting out.
Some of them include:
Click-through Rate: The number of clicks that your video received divided by the number of times your video was recommended.

Returning Viewers: How often people are returning to your channel.

Watch Time: Total time viewers spent watching your video content.

Impressions: Total number of times your videos were shown to people.

Audience Retention: A second-by-second graph of how viewers are responding to content once they start watching.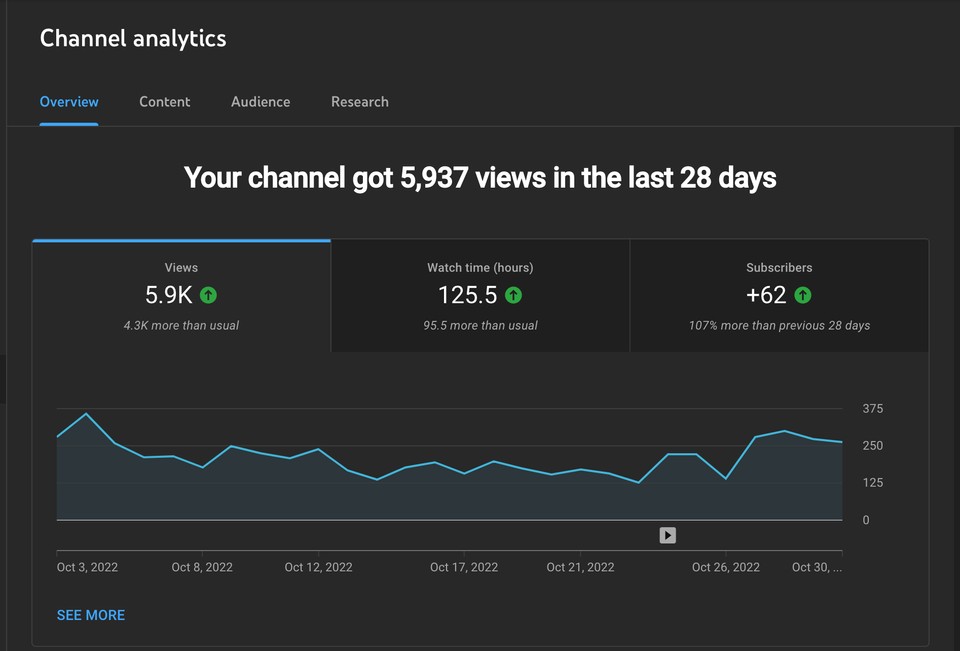 Ready to Start Your YouTube Channel?
Starting a YouTube channel might sound daunting.
Not only do you need to create and edit videos, but plan, schedule and promote your videos. The take-home idea though is to select a niche that has a high CPM and monetization potential.
And that's where tools like TubeBuddy, VidIQ, AnswerThePublic, and Google Keyword planner come in.
And did we mention Fliki's text-to-audio and text-to-video module that makes content creation super easy?
Sign up for Fliki today and unlock 850+ neural AI voices, 77+ languages, 100 dialects, and a lot more!