Did you know that with AdSense, a YouTuber can get paid anywhere between $0.01 to $0.03 per ad view?
Moreover, you can earn around $18 per 1,000 ad views. This translates to $3 to $5 per 1,000 video views.
Gasp
However, there are other ways to generate revenue than AdSense.
Want to learn how to make money with YouTube?
In this article, we'll show you eight ways to make money with YouTube, along with a few frequently asked questions.
Let's jump right in!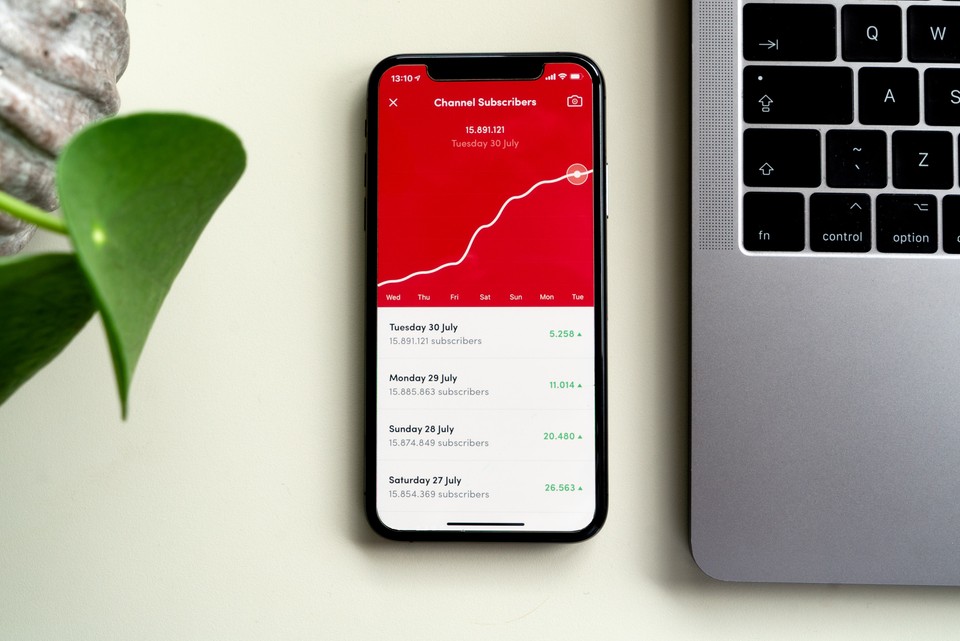 1. Become an affiliate marketer
YouTube affiliate programs reward you with a set commission for every purchase made through an affiliate link. You can mention these links in your videos or even add them to video descriptions – prompting viewers to buy.
Companies like Amazon Associates, ShareASale, and ClickBank offer various affiliate programs.
The best part is you don't essentially need a large audience base. If your audience is loyal and engaged, and you have enough expertise in your field, you're good to go.
For instance, Ali Abdal, a 27-year-old junior Doctor, earned over $200,000 through 10 different affiliate programs in 2021.
Here's how you can get started:
Sign up with companies or affiliate programs to get links for affiliate products.

Once accepted, create custom links for the products.

Recommend these products on your channel and share your affiliate link in the video descriptions.
The result?
You get paid a commission for every sale made through the custom link.
But wait…
Don't forget to notify your YouTube audience about your affiliation with the brands featured in your videos.
2. Join YouTube Partner Program
1,000 subscribers? Check ✅
4,000 watch hours in the past 12 months? Double-check ✅
It's time to get started with the YouTube Partner Program (YPP).
What's YPP?
YPP is a monetization program where creators share revenue from the ads on their videos.
BTW… did you know that over the past three years, YPP has paid over $30 billion to artists, creators, and media companies?
Awesome, right?✨
That reminds us that there are some additional requirements as well, like:
You must live in an eligible location.

You need to link a Google AdSense account.
Once these are out of the way, you can start earning through ads and YouTube Premium subscribers watching your content. Also, you unlock access to other revenue streams like channel memberships, Super Chat, and Super Stickers (more on this later!).
Want more? The YPP offers one-on-one chat, email support, and access to the Copyright Match Tool.
3. Build a blog to compliment YouTube
With YouTube, you can scale up your brand, drive conversions, and increase your business revenue.
But if you want to connect with your fans on a deeper level, consider building a complementary blog.
And for the icing on the cake, blogs can also display ads and usually have a higher click-through rate on affiliate links.
So, all you need to do is open a Google Doc and start capturing your thoughts. After it's published, you can even share your blog on YouTube to drive more traffic.
Bonus tip: Note your blog visitor email addresses and use them for email marketing.
Here's a quick empowering story:
Adam Enfroy started his blog AdamEnfroy.com in January 2019. And as of May 2022, he makes around $100,000/month.
And did we tell you the best part?
You can use blog-to-video tools like Fliki to convert your blogs into videos. But we'll talk more about it at the end of this article.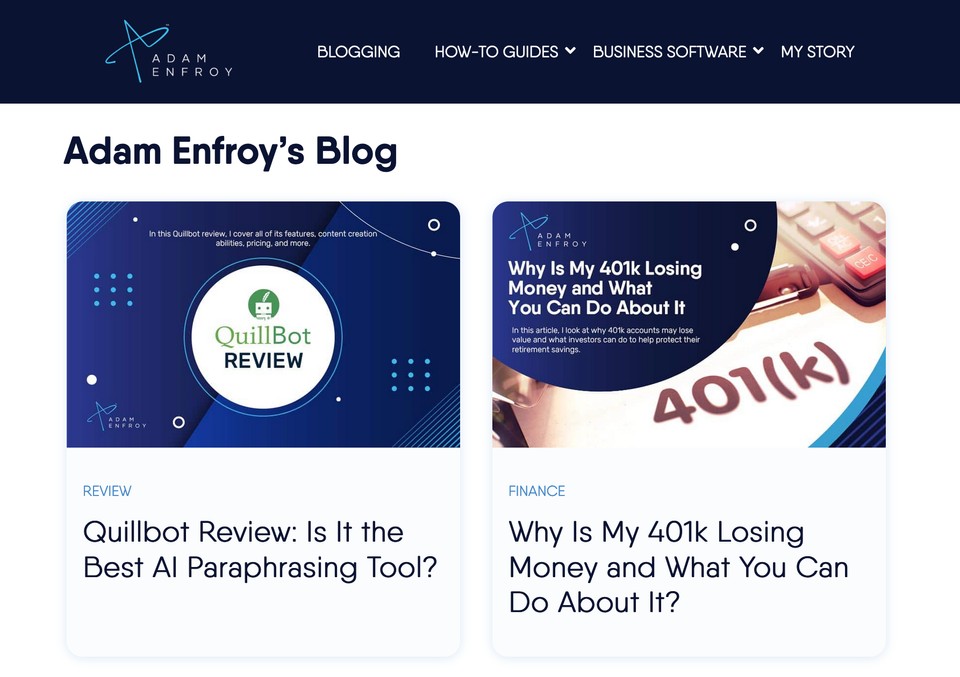 4. License your content to the media
The thing about viral videos is that every news outlet wants to jump on the wagon when it blows up. And luckily, there are rules in place that helps the rightful owner get paid for every time it's played.
But the chances of a video getting viral are as unpredictable as the future. 🔮
However, some media outlets use less-viral videos to round up their news segments. These videos can be funny clips of your furry friend.
For example, Jukin Media has a dedicated library of exclusive footage of newsworthy videos like major natural disasters, plane crashes, or the plague of locusts.
How much can you get paid for your videos?
Jukin Media usually pays $75-$200 for one-time licensing, whereas fees for commercial and advertisement lie between $200-$1000 or more.
5. Sell your own merchandise
Believe it or not, you don't need business bones to sell your own merchandise or service.
Whether it's t-shirts, mugs, tote bags, or caps, there are platforms that can help you throughout this process.
Let's take a quick look:
Design and order: Freelance websites such as Fiverr.

Worldwide manufacturers: Alibaba

Print-on-demand: DSers or merchandising networks like DFTBA (Don't Forget to Be Awesome).
Once you're done with the manufacture and supply part, you can set up your own website or use the YouTube shelf feature to sell your channel's merchandise (if eligible).
According to this report, the YouTube channel Dude Perfect's average product sales revenue is $2,957,950/month approximately.
And here's how their shop looks: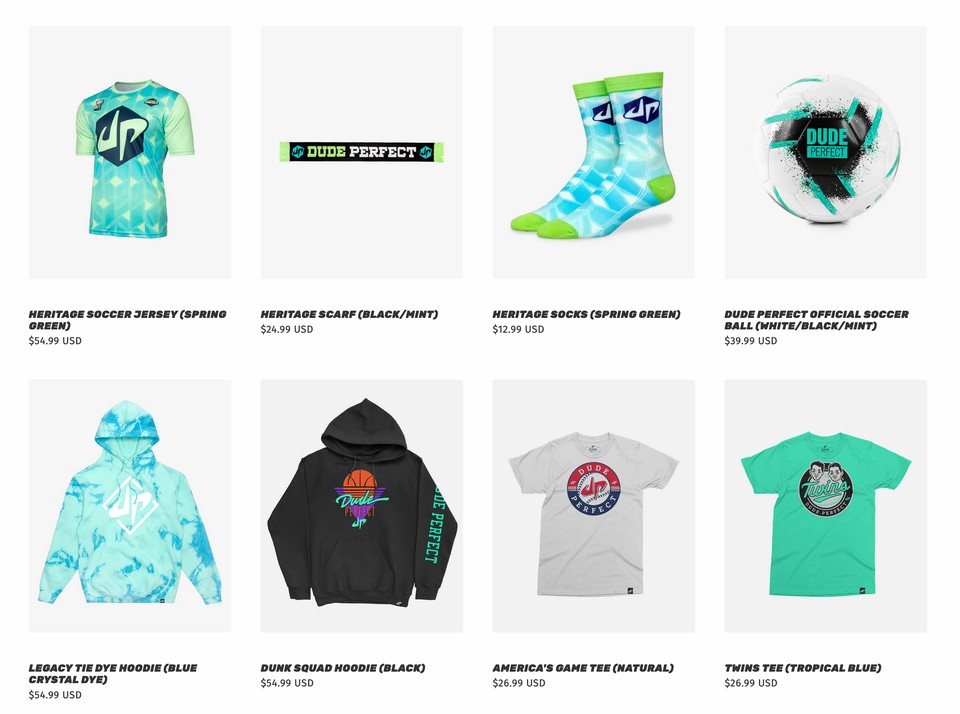 However, the question that remains is…
Why go through all the trouble?
Selling merchandise not only generates revenue but increases your presence in the offline world. It can compel people to talk about your brand and give your existing customers a sense of loyalty. 🫂
Pro tip: Don't forget to promote your products in your videos and add your store's link to all video descriptions.
6. Work with brands
Companies pay a fixed amount to collaborate with YouTubers. Or, in other words, they sponsor your content. This amount can vary based on the quality of your videos, popularity, and other factors.
According to this WebFX report, on average, brands pay $20,000/1,000,000 subscribers approximately to promote their products and services.
And here's a breakdown:
1,000 subscribers: $20 per video.

10,000 subscribers: $200 per video.

100,000 subscribers: $2000 per video.
So, you have such a strong following and engaged audience… now what? How do you get brands to partner with you for sponsored content?
The answer, of course, lies in proper strategy and planning. Use these simple steps to work your way in:
Create and perfect your brand pitch.

Come up with a number based on your audience's size, engagement, and relevance to your potential partner.

And with continuous effort and dedication, you'll eventually get to a contract to sign.
However, remember to disclose that a particular video is sponsored and you're advertising for that brand. You can also use YouTube's built-in disclosure feature to add transparency to your content.
7. Get your fans to pay you directly
Getting your viewers to pay you directly is another way of generating revenue if you already have a loyal following.
Let's check out three different ways you can earn through:
Super Chats and Stickers: Viewers can purchase Super Chats and Stickers to get their messages or animated images highlighted within the live chat. To enable this, you need to be above 18 and in one of the available locations. Also, your channel should be monetized.

Channel Membership: Viewers can join your channel in exchange for monthly payments and get members-only benefits like badges, emojis, and more. You should be a part of the YouTube Partner Program to offer memberships.

Super Thanks: Viewers can buy a fun animation (one-time only) that is only shown to the buyer over the top of the video. The buyer can also post a customizable comment in the comments section. To qualify for Super Thanks, your channel should be monetized and be in one of the available locations. Also, your channel shouldn't be a music channel under SRAV.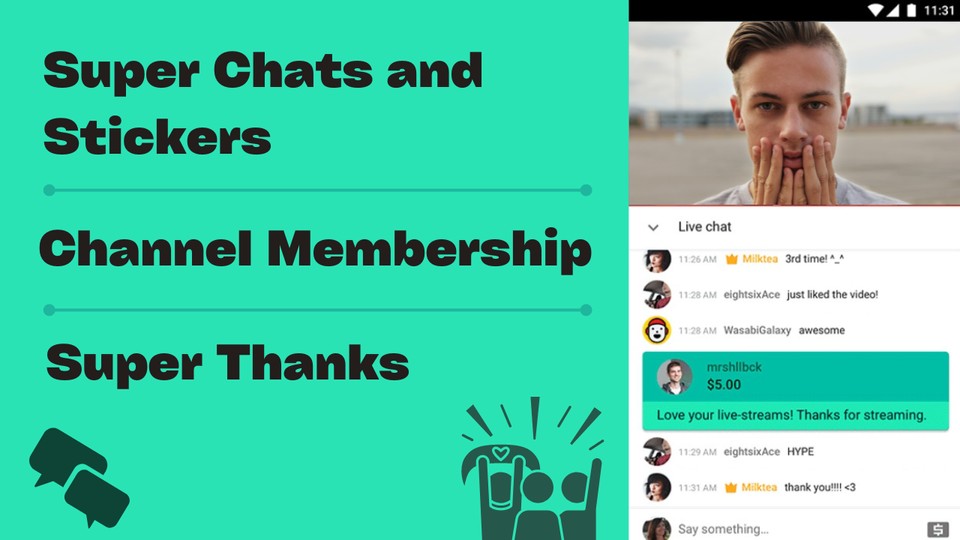 Now, let's look at the price breakdown:
Source Range Super Chats $1-$500 Super Stickers $0.99-$50 Channel Membership $4.99-$49.99 Super Thanks $2, $5, $10, or $50
Note: YouTube deducts 30% of the earnings
8. Turn to Crowdfunding
Do you have an idea that needs financial support for execution?
Then crowdfunding is the way!
There are two types of crowdfunding:
Recurring: Ask your viewers to pay a small subscription fee for exclusive access.

Project-based: Ask the crowdfunding community to pitch in if they find your project compelling enough.
Naturally, more subscribers translate to more revenue. You can offer incentives such as one-on-one video chats, private classes, or merchandise to sign up.
But does it work?
A few years back, a YouTuber, James Rolfe wanted to make a movie based on the Angry Video Game Nerd Character. So, he started an IndieGoGo funding campaign and raised $325,327.
Likewise, YouTubers use sites such as Patreon to provide exclusive content:
CGP Grey (13,979 patrons): $1-$100

RKG (3,728 patrons): $3-$10

The Best Show (2,444 patrons): $1-$50

Bad Faith (7,443 patrons): $5-$10
So what are you waiting for?
If your cause has enough potential, sign up for crowdfunding platforms like Patreon, Ko-fi, Kickstarter, and GoFundMe to get started.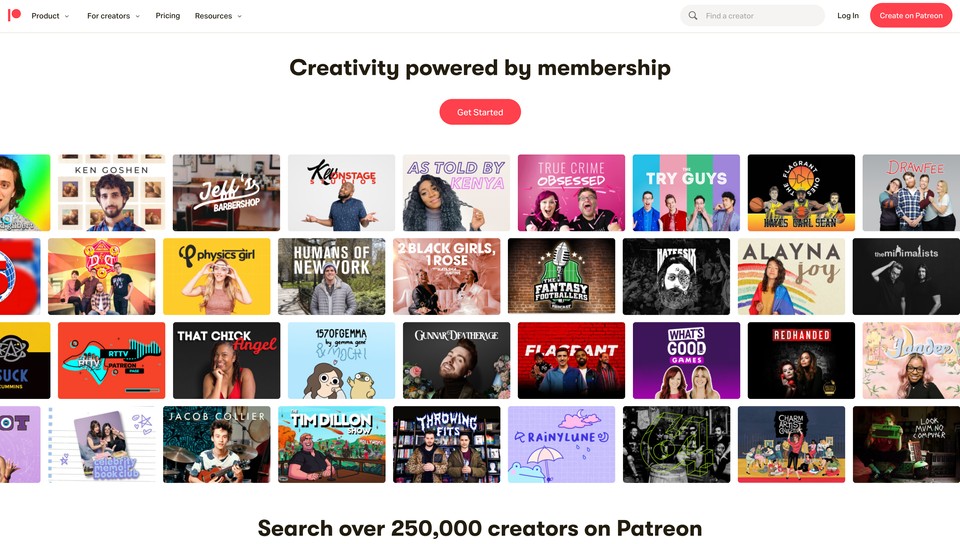 Use Fliki To Easily Convert Blogs Into Videos
Fliki is a text-to-speech and text-to-video platform that helps you easily create audio and video content using AI voices.
Here's how you can do that:
Sign up for Fliki or sign in if you already have an account.

Create a new video or choose an ongoing project.

Enter your script and add images or clips.

Customize voice, dialect, tone, and a lot more!
You can choose from 850+ high-quality voices and create audio and videos in 77+ languages and 100+ dialects.
Check out other features here.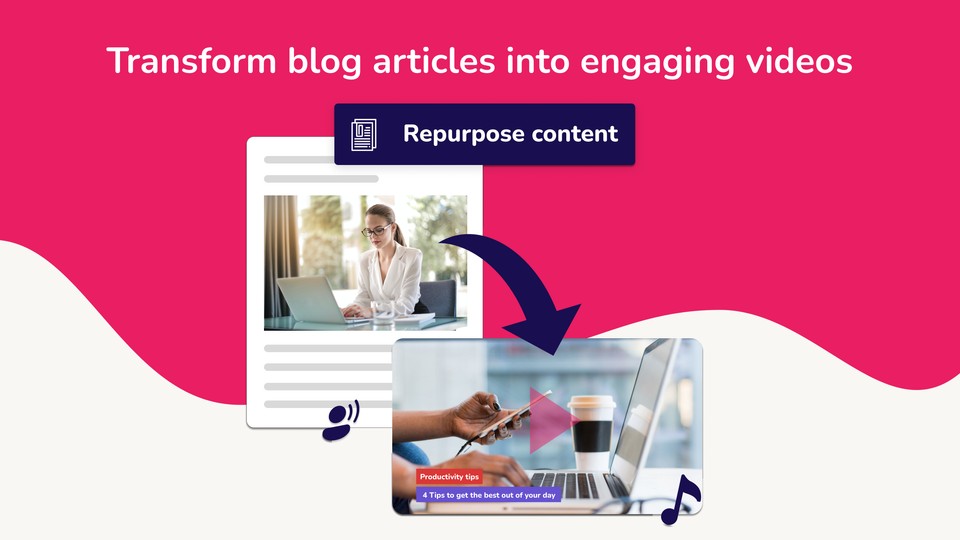 3 FAQs About Making Money With YouTube
Still, have doubts about earning money through YouTube videos?
These frequently asked questions should help:
1. What are other ways to earn money with YouTube?
While we've tried to cover most ways to make money with YouTube. Here's a list of some other methods:
Create and sell a digital course: Share your knowledge and expertise with your followers for its worth.

Review products: Review software or product on your YouTube channel for companies seeking exposure and sales.

Offer consultation: Use your channel to offer consultation and reviews to help others succeed.

Use Patreon: Charge a fixed monthly payment for exclusive content or charge Patrons on a per-post basis to your fans.
2. How to increase your viewers?
Like everything else, it takes effort and patience to grow your audience base.
Use these tips to make your YouTube journey easier:
Understand your target audience and what they're looking for exactly.

Create a clear content strategy.

Optimize your videos for video descriptions, tags, sections, and much more. 😳

Utilize dedicated performance tracking tools like TubeBuddy and VidIQ.
And if you're just starting, check out our detailed guide on starting a YouTube channel in 2023.
3. How much does a YouTuber make?
The short answer is: It depends!
On the one hand, creator Stevin John's kids' channel Blippi earned $17 million in 2020, whereas Ryan Kaji, a nine-year-old kid, earned $29.5 million and became the highest-paid YouTuber of 2020.
However, on average, a YouTuber earns $3-$5 for every 1,000 video views through AdSense.
It's Time To Earn Some Money!
There are various ways to make money with YouTube, and the most effective method depends on the goal you want to achieve.
If you have a large audience base, you can try creating sponsored content or earn through Super Chats and Stickers. And if you're starting, go for affiliate marketing, content licensing, crowdfunding, creating faceless videos, and more.
And with text-to-video tools like Fliki, video creation is easier than ever!
Get Fliki for free today, and produce videos in 850+ life-like AI voices, 77+ languages, and a lot more!