Introduction
TikTok's average engagement rate is 17.99%
When it comes to high engagement rates, Tiktok is a no-brainer. While social media averages less than 5%, it has a crazy rate of 17.99%! But if you're watching closely, you might catch a glimpse of the general nuance of the audience: 'cringe.'
People criticize TikTok for its lack of content quality, but this criticism holds little weight because many creators like to use the app to post their creative videos.
If you are a TikTok creator, you must avoid having your TikTok videos perceived as 'cringy' by your audience. TikTok's audience may cringe for a variety of reasons, but among the most prominent is the use of TikTok's text-to-speech voice.
Moving forward, we'll present the general nuance of the audience about TikTok text to speech voice and discuss how to prevent users from having wrong narratives about your TikTok videos.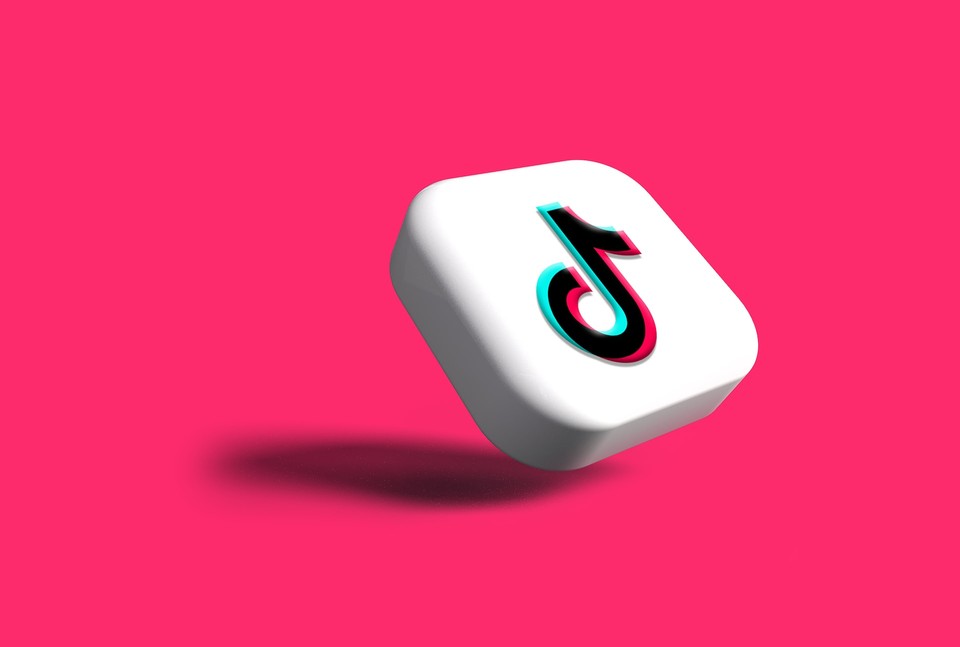 "Tiktok Text to Speech Voices are Annoying" - Tiktok Users
You have to agree on this: TikTok's synthetic voices sound robotic. While the audience may tolerate mispronunciations to some extent, their tone and inflection often appear strangely unnatural.
The creators have access to just one voice (regional). In this scenario, the voice's tone may not match the message, which can be jarring to the listener. On the other hand, the creator may struggle to find the right voice style for their content and may be at risk of sounding pretentious or condescending.
North American text-to-speech voices have "Valley Girl" speech patterns, which many find irritating. The chirpy nature of "Valspeak" also feels out of place with a lot of TikTok content in the US.
TikTok's text-to-speech service has garnered much attention from the actual audience. Check out these real TikTok user reviews:
You shouldn't let Tiktok text to speech take away your audience!
Tiktok users spend an average of 45.8 minutes on the app daily!
Tiktok is an absolute beast when the talk comes to impressions, reach, and engagement! Many have leveraged the platform to grow mammoth followership! However, the creators should understand the general narrative of the audience and shouldn't ignore it by any means.
We understand that there are various legitimate reasons why creators use the native TikTok text to speech feature. Many don't want to invest in expensive recording equipment, some are uncomfortable with their voices, and others aren't native English speakers. Anonymity can be another reason; you'll often have accounts run by minors.
However, you shouldn't let TikTok text to speech voices ruin the user experience and let go of this big problem. Otherwise, you will lose out on the big game.
But what's the solution? Record your voice! Perhaps, if you can pull it off, then it would be perfect. However, we understand that it's not easy for everybody to record their voice for TikTok voiceovers. We will be looking at more practical alternatives for TikTok text to speech!
Tiktok Text-to-Speech Alternatives
You're on the right track if you've finally decided to change text to speech voice on tiktok for your TikTok videos until they improve. You may use other quality text-to-speech solutions if you cannot record your voice or hire an expensive voiceover artist.
We must understand that Tiktok is primarily a social platform, not a text to speech company. Modern AI text to speech solutions can generate far superior quality voiceovers with the right tone and inflections. If you want to woo your audience, you should start using one of the powerful text to speech solutions for your TikTok videos:
Fliki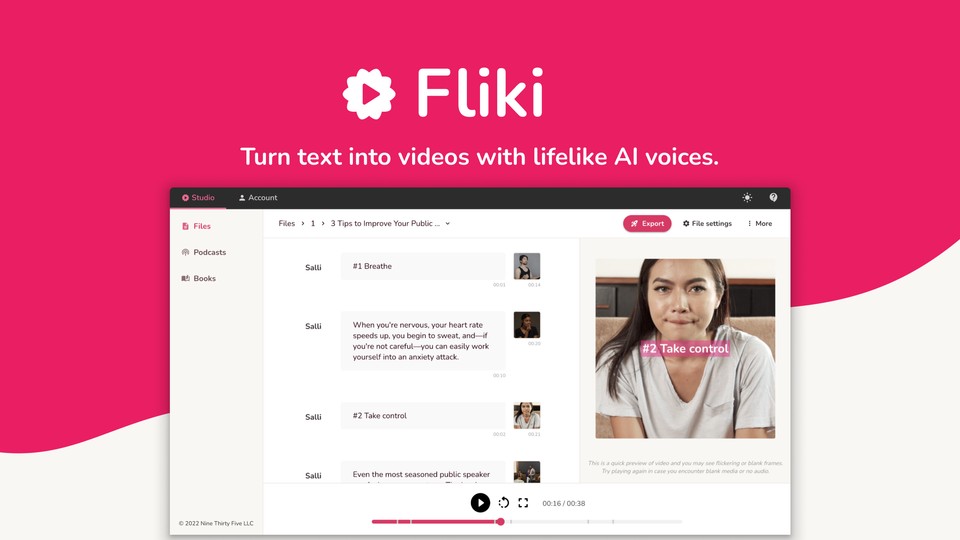 Fliki is an AI tool that can convert your text into audio and video content using AI voiceovers in seconds. With 850+ voices, 77+ languages, and 100+ accents, it sets itself apart from TikTok text to speech and other text-to-speech solutions.
Fliki is probably the easiest quality text-to-speech solution for TikTok creators. It also allows creating the TikTok video straight from their editor, while other major text-to-speech solutions only provide the audio file formats.
⭐️ Free Plan - 10 mins/month

💵 Subscription plans start from $8/month offering 120 mins
WellSaid Labs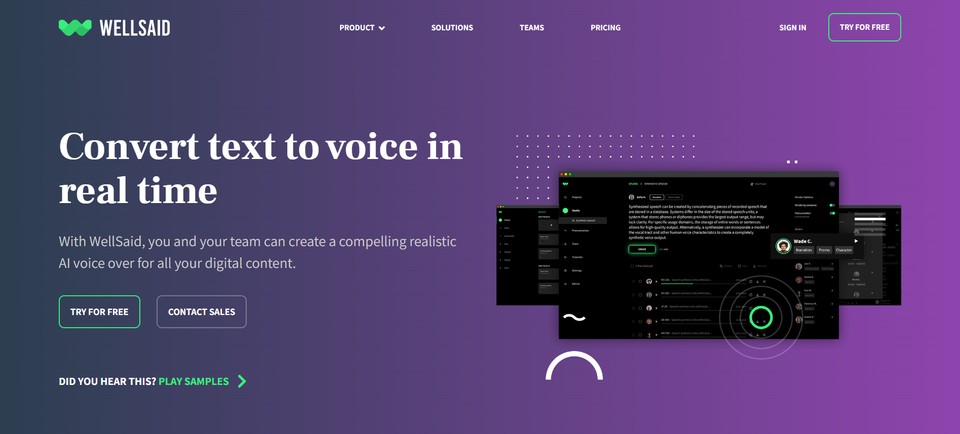 The WellSaid Labs text-to-speech solution accelerates and elevates voiceover production work using AI voices. They have top-notch voices but a limited number of languages and voices.
WellSaid Labs aims at reducing costs and streamlining the voice production process. However, they are the most expensive on the list, with the starting plan at $49/month. It's because WellSaid Labs focuses more on B2B clients than on individual creators.
⭐️ Free Trial - 50 min* - valid for 1 week

💵 Subscription plans start from $49/month offering 250 mins
PlayHT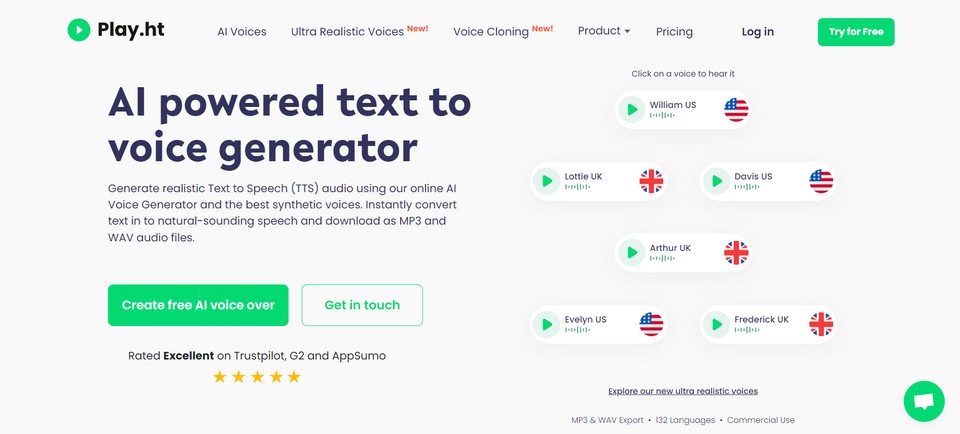 PlayHT is an AI-powered voice generator and realistic text-to-speech program. In addition to 570 natural-sounding voices with human-like intonation, PlayHT has a library of over 60 languages and accents powered by machine learning.
For videos, articles, podcasts, and more, PlayHT lets you instantly create clear professional voiceovers. If you are willing to pay upfront, playHT can be a good option but remember you can't make videos from playHt; it will only give the output in audio file format.
⭐️ Free Plan - 0.6 min* - valid once

💵 Subscription plans start from $19/month offering 120 mins
Descript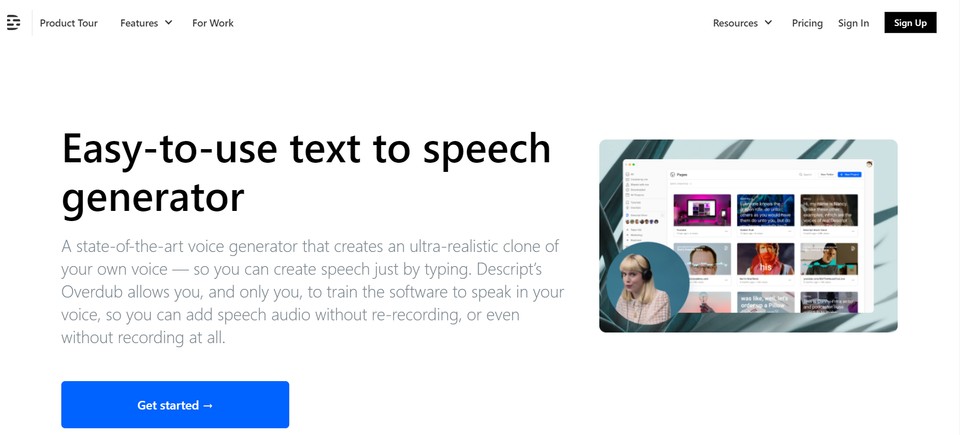 Descript is an advanced collaborative audio/video editor that works similarly to a document. It includes transcription, a screen recorder, publishing, complete multitrack editing, and AI tools.
With the help of its advanced transcription technology, creators can edit their videos with text. However, most of their advanced features target professional video creators who usually record themselves. We only recommend this tool for advanced creators!
⭐️ Free Plan - 10 min/month

💵 Subscription plans start from starts at $15/month offering 60 mins
Conclusion
In the US alone, Tiktok has 50 million daily active users, with such a large prevailing audience you have to stand out and find a voice that fits your brand and persona.
Fortunately, modern text-to-speech solutions has come to the rescue. Credit to their advanced technology, they can produce high-quality voiceovers in almost 80 languages, ensuring no language barrier.
You can start with Fliki, which provides lifelike and superior-quality voiceovers at no/minimal costs. Small changes in your content strategy can put you far ahead of your competitors.